This season, the Foxes 2021 cross country teams are a mixed bunch of experienced and young runners, all of whom are learning how to feed off of each other's enthusiasm, vigor, and experience. The results so far have proved satisfying for Coach Tom Moul, but also have highlighted the fact that more work needs to be done for the runners to peak at the right time.
Top runners Jack Lorence, a senior, and sophomore Laura Carter have led the pack from the beginning and continue to set the pace for their teammates.
Laura won the Gateway Invitational, was followed by teammate Clara Kelley in second place, and the team won the event. At the Red, White, and Blue Classic, Laura medaled in 15th place out of a field of nearly 200 female runners, and the Foxes team finished seventh.
While Laura says it certainly was nice to get a gold medal early in the season and do well in the event, but she doesn't place priority on place finishes.
"I'm trying not to focus too much on my times and more on places, but looking at results from last year's races, it seems like I've improved, and I'm proud of how I've been doing," Laura says. "I just don't want to become overly confident, because I know I need to stay focused if I want to go far this season. Running is super taxing physically, and sometimes my training is a little more intense this year, so I've really been working on pushing myself through workouts and depending upon my teammates and the competition as motivation to get through when my mind is telling me to give up."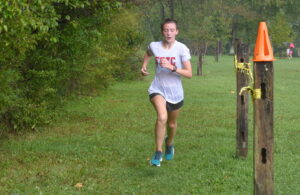 "Laura always improves as the season progresses," says the coach of his sophomore runner. "Her best performances last year were at the end of the season. She is a joy to coach because she is really focused and tries to do everything we ask of her."
Even with Jack's running experience and his years performing on stage in musicals, he still gets some flutters before big races. Yet, he is running his best, as was evidenced by his first-place finish at the Gateway Invitational, where he posted a time that was 22 seconds ahead of the pack. His performance led to a gold medal for the boys. The next weekend at the Red, White, and Blue, he finished ninth, and the team was third out of 28 WPIAL Class 3A boys teams.
"Honestly, I feel that I've just been racing a lot better now mostly due to my experience," says Jack, who is considering a pre-medicine curriculum in college. "You become naturally better at all aspects of your race by just racing more and being confident in yourself and your training."
Fellow senior Owen Carter, Laura's older brother, is among the stronger runners on the boys team and believes his most noticeable improvement has been in his pace of running.
"In my freshman and sophomore years, I was on junior varsity and was your typical high school runner, so to say," Owen comments. "Over the past year, there has been a steady increase in my raw pace of running."
"Owen is one of the most coachable kids I've had," says Coach Moul. "I often use him as an example of someone who gets the most out of himself with hard work and focus. He does everything we ask of him and tries to have perfect technique in hitting specific paces during the runs, and his warm-up and cooldown routines. He has evolved into one of our top runners."
Coach Moul says, "Overall, the boys have exceeded my expectations, and I'm excited to see how far we can go."
Other seniors on the boys team include Jordon Gwin, Ethan Napolitan, and Alex Staud.
"Ethan trains with Jack every day, and the two of them have helped motivate the younger runners. Jordan missed all of last year due to an injury but had a very good track season that has allowed him to have early success in cross country," adds the coach. "Alex also missed his sophomore season, but I'm very proud of how he's come back to be a caliber varsity runner. Another senior, Nick Mascilli, has provided excellent leadership for the junior varsity squad."
Gabby Kline and Riley McIntyre, both seniors, have provided excellent leadership for the girls varsity team, while fellow senior Annie Yonas has done the same for the junior varsity team. All of the upperclassmen have been an important factor in encouraging the younger runners, including Emily Harajda.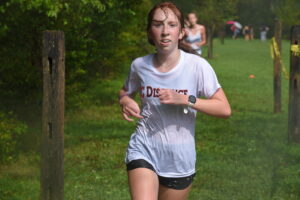 A sophomore, Emily found a lot of joy in running since she was in elementary school. She says it is "freeing" and discovered along the way that she was pretty good at it. That led her to start training, and ultimately, she joined the middle school team. Now a member of the varsity squad, Emily is very motivated, not only for personal success, but to see her teammates excel as well.
"Over the last year, I feel like I've improved my confidence," says Emily. "Last year, I would get extremely nervous for meets, to the point where I wasn't enjoying the great competition. This year, I have let myself relax a bit. I've found that when I can do this, I can get my eye off how nervous I am and really focus on how to best prepare for my race."
Coach Moul is pleased with how his young runner has matured.
"Emily is still learning how to train properly and how that translates into racing faster, but she's been a very quick study." says the coach. "One of her strengths is her ability to take what the coaches tell her and execute to the best of her ability each day. She's part of a group of girls who really get along well. They train together and seem to genuinely like being together. That makes a difference, especially when you work as hard and as often as they do."
Laura believes her achievements and those of her teammates on the girls team are due to a combination of things – talent and camaraderie. "It just makes coming to practice and working hard so much easier," she says. "I think the friendships on this team are the foundation that our success flows from."