David Manelis, last year's PIAA Class 3A diving runner-up, describes himself as a very outgoing person who enjoys talking to people. But when he approaches the diving board, it's a totally different matter. That's when his ability to maintain total focus on the moment sets in.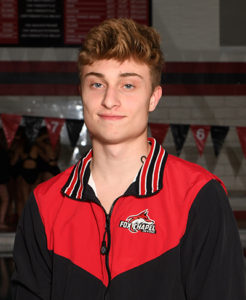 "Mental toughness is definitely an important part of diving," explains David, who has advanced to states for the past two years. "If you have the right mindset, as well as confidence, you are more likely to perform the dive better. I think a strength of mine is that if I have a poor dive, I tend to bounce back and am motivated to do better."
He proved that last season as a sophomore when he was awarded a couple of rare perfect 10 scores, and then went on to states and placed higher than teammate and graduate Jonah Cagley, who had previously broken all of the school's regular season scoring records. With Jonah now diving at Duke University, David isn't sharing the limelight anymore – at Fox Chapel Area, he is now in a league of his own.
Potential Grows Every Day
In comparison to last season, David says, "I've definitely improved my hurdle (the last steps in the forward approach) and dive difficulty. I have added a few new dives that I was even surprised that I could learn!" Among them is an inward 2.5 somersault that has the highest difficulty ranking in high school diving.
Besides improving his technical skills, with no senior divers on the team, David has taken on another important role – leadership.
"I think being a leader comes naturally to me," David says. "I am always available to offer corrections, and most of all, to boost my teammates' confidence so they do not feel too overwhelmed."
While he doesn't like to look too much ahead of himself, David is predicted to be a top contender again at WPIALs and PIAAs. He adds, "I still have a lot to learn, but I feel more confident this year, and I'm always up for a challenge, so these next two years will be exciting!"
In addition to David, other members of the boys diving team are juniors Aidan Ireland, Jake Mulhern, and Tristan Vettier.