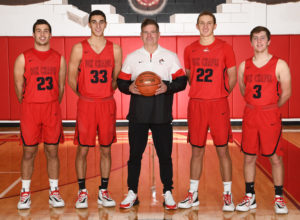 Fox Chapel Area Boys Basketball Coach Zach Skrinjar is very superstitious, so for him to go out on a limb and say he has a good feeling about this year's group of basketball players is, to say the least, very atypical.
"I don't really tell people that," he says, "but this group excites me because of their will to win. The entire team gets along really well, and they are unselfish in their play. Everyone has contributed in a positive manner in every game, and, as coaches, that's what we need to see."
This year's seniors are Sam Brown, Will Livingston, Shane Susnak, and Arnold Vento.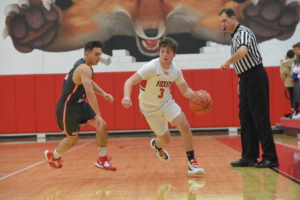 If Shane's name sounds familiar, it's because he led the Foxes football team to the WPIAL playoffs this year and set a new school passing record. He brings that same determination and leadership to the basketball team.
"Shane does everything we ask of him on the court " says Coach Skrinjar. "He shows a real willingness to nurture the younger guys, and his work ethic sets a good example for them and the entire team."
Will, a member of the school's state champion golf team this past fall, has quiet confidence.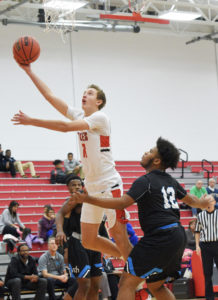 "He's the kind of player you might not notice, unless you are a coach, but we often put him on our opponent's best offensive player, so it's a tough assignment," Coach Skrinjar says. "He's very athletic and loves a challenge. You can see Will's  love for the game every time he steps on the court."
The coach continues, "Arnold is steady, reliable, and can impact the game in every situation. He's a tough matchup for opponents. I'd say he's the most complete offensive player we have."
The seniors' leadership and acceptance of their younger teammates has also made it possible for some of them to shine, particularly junior Kent Baldauf and sophomore Eli Yofan.
"Both players have come a long way and have been impact players early in the season," comments Coach Skrinjar. "When Sam gets back, we will have a legitimate eight starters. Our depth this year is great."
Sam has been injured but will be back in the lineup soon, says the coach, while adding, "Sam brings an intensity to the team and also has an incredible work ethic. We look forward to having him back on the court."
"I think we have a lot of potential, and we work together well because everyone wants each other to succeed," Will states. "We need to act on that potential, because if we play how I know we can, nothing is out of the picture."