Natalia Schaffer's natural athleticism, combined with her height and nimble footwork, have made the sophomore a multidimensional player whose efforts have been critical in the Fox Chapel Area girls basketball team notch its best record in coach Marty Matvey's four-year tenure as head coach. And she just keeps getting better as the season goes on.
"Natalia can drive to the hoop and fit through the smallest crack in the defense," says coach Matvey. "She is really developing at an exponential rate on the offensive end, and is not only a finisher at the rim, but she is also developing nicely into a long-range sharpshooter, as is evidenced by her many three-pointers, especially in clutch situations."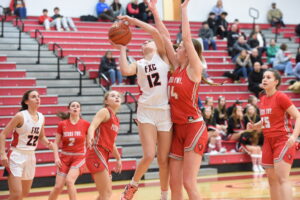 One of Natalia's most memorable games so far this season was against Armstrong High School when the game went down to the final seconds of regulation time and then into double overtime.
"Going into the second half, we were down, and it was my job to make sure we all had confidence and energy when going out and playing," Natalia says. "At the beginning of the game, I got into early foul trouble, but I knew it was important to stay positive, and it all worked out in the end. It all came down to the fourth quarter when we were down, and then up, and then down."
She sealed the game in regulation time by hitting a three-pointer that sent the teams into the first overtime. The Foxes needed a second overtime to put the River Hawks away, and in double overtime, Natalia played finisher as she made a layup, got fouled, and subsequently made her free throw to put the game out of reach for good.
Her Own Best (or Harshest) Critic
Natalia's drive to be the best version of herself comes with a lot of self-evaluation. Sometimes she is hard on herself, but she tries not to dwell too long on her mistakes, especially in a fast-moving game, because she knows she will miss the next play.
"I put a lot of pressure on myself to do better than I did the day before," Natalia says. "I have learned to not put my head down if I make a mistake."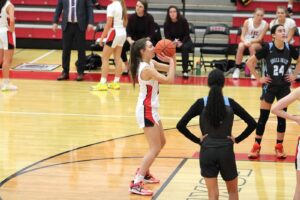 Learning from mistakes is part of any undertaking though, and Natalia is putting those lessons to good use. She set goals for herself at the beginning of the season, and one of them is to be resilient in tough situations. There have been plenty of daunting moments this year, but Natalia has consistently shown tenacity.
"The difference in her confidence from last season to this one is remarkable," says coach Matvey.
"It's important to have the confidence to take any shots and to not be afraid if you miss," Natalia says. "If you do miss, you must look to make the next great play or shot."
Plus, this special group of athletes supports each other and instills positivity.
"I love the enthusiasm all of the players have and how we know we have to work harder every day," she says. "We have truly shown how far we have come, and we never give up. We take each and every day step-by-step as we keep working our way to the top."