Sarah Pasquella might be a little shy in person, but in the pool, her personality shines as a bold, resilient, and focused rising star. She's worked hard to get to this point and has been boosted by a unique feature that's hard to hide – a 6-foot frame. Her length gives her the ability to have great force and pull in the water, and her long arm reach gives her an advantage over other swimmers when touching the finish wall, especially in close races. Sarah's success, however, is not just a factor of her build. Her commitment to training and competing year-round have earned her a reputation as one of the top freestylers and breaststrokers in WPIAL Class 3A.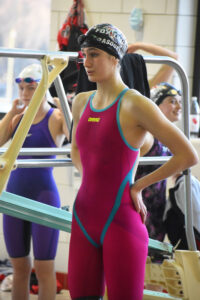 Even though the WPIAL Class 3A championships are not until March, Sarah has already automatically qualified in the 50-, 100-, 200-, and 500-freestyle events, and also the 100 breaststroke. She and senior Sophie Shao, who broke the WPIAL record in the 100 butterfly last year and is the owner of multiple WPIAL and PIAA gold medals, lead the team with five automatic qualifying times. This season, Sarah matched or beat Sophie's qualifying times in two events.
"I'm really excited for her," Sophie says of her younger teammate.
Sarah's reaction when seeing her times was very reserved. She says, "It is interesting to think about."
The sophomore has some lofty goals to reach by the end of the season. She explains, "My best events are the 50-yard freestyle (24.30), the 100-yard breaststroke (1:05:46, a time from an elite meet), and the 100-yard freestyle (53.15.) My goal time for the 50 is 23.99, and my goal for the 100 breaststroke is anywhere in the 1:04 range. For the 100 freestyle, I would like to go 52.99."
Rising to the Top
Sarah's evolution as a swimmer began when she was 11 years old and followed in her sister Ariana's footsteps by taking lessons at the local Chapel Gate Swim Club. (Ariana, a 2022 graduate of Fox Chapel Area High School, was a member of the girls 200-medley relay team that placed second at the 2022 PIAA championships.) Sarah refers to her sister, now an elite swimmer at the University of Rochester, as her "biggest supporter."
"Racing Ariana (last year in high school and in club swimming with the Killer Whales) in practice created healthy competition, which pushed me to work harder during difficult breaststroke sets," Sarah says. "Eventually, I started to get closer and closer to her times." Now, she has surpassed many of them.
Sarah is a stickler for details. Out of the pool, she has an interest in architecture, design, and writing. She carries that same attention to detail into the water when she practices. There, she devotes much of her time to tweaking and improving all aspects of her skills, from her entry to perfecting her strokes, to strategically determining her best pace, and then nailing her kick in the last milliseconds of a race. Last season, the coaches incorporated yoga into the team's drylands, and she has found that to be particularly helpful in improving her flexibility and strength.
"Sarah has a great work ethic and is extremely coachable, both of which have contributed to her improvement over the past year," says coach Dan Taylor. "She has made a lot of progress, especially in freestyle. Last year, she made the podium at WPIALs in the 100 breaststroke, which is arguably her best stroke. However, her freestyle has caught up with her breaststroke, and it's hard to say what event is her strongest now."
Her efforts follow her motto to "just keep swimming," work hard, and listen to the advice of her coaches about tapering down her workouts as the postseason championships draw closer.
"My development as a swimmer requires a consistent effort – consistency is so important in swimming," says Sarah. "Working hard every day is meaningful as it makes me feel accomplished, and I know that I'm working toward being a strong contributor to the team. Those are my steps toward doing well at WPIALs."