The Fox Chapel Area High School wrestling team finished seventh at the 21st Allegheny County Wrestling Championships, up two spots from last year, and eight athletes were named all-county, also two more than in 2022.
"I'm very happy with the way we wrestled in the tournament," says Michael Frank, head coach. "Finishing in seventh place out of 38 teams is a total team effort, and I'm very proud of how each of our kids competed. The hard work that the wrestlers are putting in each day is starting to pay off."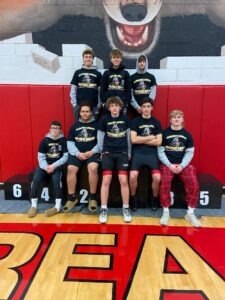 Repeat medalists from last year are junior Alexander Kaufmann (152 lbs.) and senior Trevor Katz (189 lbs.), who both placed third, and seventh-place winners junior Josh Alexander (139 lbs.) and sophomore Landon Funk (107 lbs.).
First-time medalists are sophomores Michael Worsen (114 lbs.) in fourth place, and Jack Viti (172 lbs.) and D'angelo Hamilton (285 lbs.) in seventh place. In his first major high school tournament, freshman Joey Geller (172 lbs.) finished the weekend with an eighth-place medal in hand.
Trevor, who was originally seeded sixth in his weight class, was especially impressive. He beat the top-ranked wrestler 3-2 on a takedown in the last 30 seconds of the match and defeated the third and fifth seeds. He credits much of his success to offseason lifting and training, and getting in more wrestling experience – things he had not been able to do the past two years due to injuries.
"I also think a lot of my success has come from the environment we have built as a team," says Trevor, who finished sixth last year. "Although we have a huge roster this year, this has really played to our benefit as we have started to hit our stride. The number of kids in the room brings different levels of competition and allows for the continued growth of our team."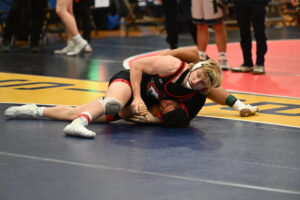 Alex attributes his advancements to becoming more aggressive.
"I have learned to be more physical, and I think that, paired with my technique, has been a big contributor to my success," says Alex, who improved from last year's fourth-place finish. "I ended up going 6-1 at the tournament, with three pins and a 10-6 victory in the third-place match.
He continues, "In regard to our team as a whole, I think we have been improving rapidly, and the size increase has certainly been beneficial. Our depth is getting to be at a level I have never seen before. I am lucky to have a good group of motivated teammates that push me to become better every day and an incredible coaching staff that keeps us prepared and has fostered a great environment for such a large team. Our coaches have been flexible and adaptable throughout the whole season, and I think that has played a large role in the team's success.
(Editor's note: Following their success at the county championships, Fox Chapel Area defeated Central Catholic 51-18, to win a spot in the WPIAL Class 3A Section 1 playoffs. It is the first time since the 2009-2010 season that a Foxes' team has advanced to the postseason.)