When Coach Bob Siar shook hands with the team's oldest wrestlers at the Foxes' recent senior and alumni night, it was bittersweet. After an illustrious 55-year career with the sport and many personal victories on the mat – including personal WPIAL and PIAA state champion titles and another 30 years as a coach – he is retiring, and, as he says, moving on with his life's work.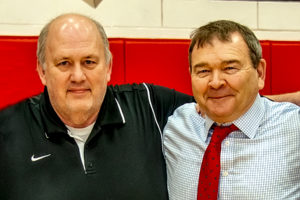 Since 1991, Coach Siar has been a big part of the Foxes' program. Coach Michael Frank says, "Bob has brought an incredible amount of consistency and knowledge to our many teams over the years. He has an incredible love and respect for the sport and has played a big role in the advancement of wrestling in Southwestern Pennsylvania."
It was actually Coach Siar, who also is retiring as a science teacher in the district after 28 years, who had the original idea 19 years ago to create the Allegheny County Wrestling Tournament. Since then, Coach Siar and Ron Frank, who stepped down as head coach after 40 years to become a volunteer assistant after being elected to the district's School Board, have worked tirelessly to put on the event each year. Now the largest of its kind in the county, it takes hundreds of volunteers to execute it, and wrestlers, parents, and coaches continuously praise it as the best and most well-run tournament they have experienced.
Born into the Sport
Growing up the son of Bob Siar, the longtime coach at Shaler Area High School who, over his lifetime, received a plethora of local, regional, state, and national recognition, meant that wrestling was always a part of family life. Even his mother got involved to such a degree that her efforts led to her induction into the National Wrestling Hall of Fame in Oklahoma, along with her husband.
As a teenager, the younger Coach Siar had a stellar career at Shaler Area High School, along with his brother, where his father was the head coach. He finished up his time there with a 99-3-1 record, was a PIAA champion once and the runner-up another year. He also was a two-time WPIAL champion, a WPIAL runner-up, and earned the section title three times. Afterward, he was a freshman letter-winner at the University of Michigan and, later, when he transferred to Slippery Rock College, became a Pennsylvania State Athletic Conference (PSAC) runner-up.
When his own wrestling days were over, Coach Siar maintained a coaching philosophy that greatly reflected his experiences when wrestling for his father. His first coaching job was in Broward County, Florida, starting in 1984. After spending time coaching and teaching in Florida, Bob moved on to Clarion College, as a graduate assistant and then a full assistant coach and then returned home and landed a job with Coach Frank at Fox Chapel Area High School. He has been voted twice as the WPIAL Assistant Coach of the Year.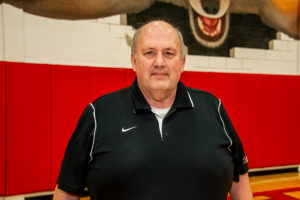 Some Things Change, Some Don't
"In many ways, wrestling has stayed the same," explains Coach Siar. "It requires athletes to put in blood, sweat, and tears, and causes them to take a hard look at their goals and expectations, and then adjust their work ethic to achieve those standards. It's an extremely challenging one-on-one contact sport that leaves no room for excuses."
There are three ways the sport has markedly changed over the years, says Coach Siar. One of them is that equipment has changed drastically to become state-of-the-art. Wrestlers continue to wrestle from an early age, but there now is a wider range of educated coaches to advance their development. Thirdly, the number of females who are involved in wrestling has jumped exponentially.
However, no matter what transformations may have occurred, some things that have remained steadfast are Coach Siar's love and respect for the sport, and his vision of what he hopes the hundreds of student-athletes he's worked with have gained.
"I hope I have influenced the kids I have interacted with to lead a good life," says Coach Siar.
Now, it's time to turn all of his attention to his family and the freedom that comes with retirement.
Coach Siar concludes, "I will be spending time with my wife Cheryl, traveling South to the beach, and visiting with my kids, Chelsea, who resides in Georgia, and Andrew, who lives locally."
That sounds like a great plan.