It's been some kind of year for the Foxes' boys basketball program – gratifying, exhausting, and fun –  as players accomplished a milestone that only one other team in school history has done before: They won 20 consecutive games over the course of the regular season and ended up 21-1. The only other time that happened was in 1977 when, in an eerily similar way, that team's only loss of the season also came in the next-to-last regular season game. Afterward, however, they went on to become WPIAL and PIAA champions, a goal the 2020 team and coaches very much have on their minds.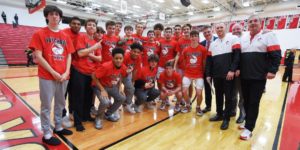 Head Coach Zach Skrinjar, one of the most successful coaches in the WPIAL, attributes the accomplishments not only to his players' abundant talent, but also because of the support they have received from the school's administration, parents, boosters, the community, students, and coaching staff. In other words, it has taken a village to raise a championship team.
Since Coach Skrinjar took over, the program has not had a losing season in 10 years, just earned the section title outright, went to the WPIAL playoffs eight times, and made three trips to the PIAA playoffs.
"The strength of our program starts at the top with Athletic Director Mike O'Brien," says Coach Skrinjar, "and incudes a quality staff that, in my opinion, is the best group of coaches in the WPIAL. They are all very dedicated and loyal, and each one brings to our program something unique and different. If, for some reason, I ever had to miss a game, I would have no fear, because I know they are highly capable of guiding the team."
Coach Skrinjar's varsity staff includes his brother Gabe, Ben Bailey, Sean Devinney, and Joe Farrell.
Winning Coaching Staff
Coach Ben Bailey grew up in Westmoreland County and has been a big help in scouting the WPIAL Class 6A section 3 schools in that area. "Ben knows a lot about basketball and brings a cerebral approach to it," says his head coach. "He is meticulous in his detail and will watch game film up to six times just to see every player from all angles."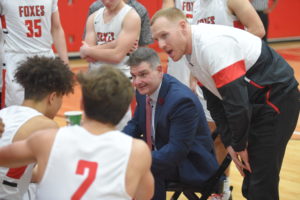 Ironically, when Coach Bailey was a high school player at Norwin, he faced the Foxes' 1977 state champion team several times, including in the PIAA Class 3A semifinals. He went on to play at the University of New Mexico and, in 2018, was inducted into the Norwin Athletic Hall of Fame.
Coach Sean Devinney grew up in a different era but is similar to Coach Bailey when it comes to his intensity and detail. He adds "energetic"to that list, saying, "I try to be the energy-giver, not an energy-taker."
Coach Devinney joined the Foxes' staff four years ago after having several assistant coaching jobs at the collegiate level. But his heart wasn't totally in it.
"I knew that high school basketball was the place that best fit my passion for the sport," Coach Devinney explains. At Fox Chapel Area, he runs the scout team and implements the defensive game plans. Because of that, he and Coach Skrinjar interact off the court almost daily.
"Sean could be a head coach anywhere," says the head coach. "We are lucky to have him."

"I look forward to every day with these guys and the players," says Coach Devinney. "What I love the most about this team is the progress they've made throughout the year, and the goals that have been met as a group and as individuals. They have really built upon what we've done in the past few years and bought into our plan for how to play games."
In any successful venture, there are those people who contribute greatly, but their efforts often go unnoticed. Such is the case with Coach Joe Farrell.
"I've known Joe for 20 years, and he loves our kids and our program. He works a lot behind the scenes and literally takes care of doing everything that needs to be in place to run practices and games," says Coach Skrinjar of his 10-year assistant, who also helps coach the junior varsity team. "Coach Farrell also is responsible for coordinating all of our scouting information and getting it out to the kids."
Coach Farrell's own playing days were spent at Central Catholic, Wooster Academy (prep school in Massachusetts), and then in college at Clarion University. He comes from a family of five boys who all played basketball, and his father is in the Duquesne University and Pennsylvania halls of fame.
He explains the uniqueness of this coaching staff and why the combination has worked together so well.
"First, Zach is a  very, very good head coach," says Coach Farrell. "We (the staff) also have known each other for a very long time and we trust each other and our individual knowledge of the game. I think communication also is a big key for us. We have a great group of kids and everyone is on the same page with the same goals."
Keeping track of when those goals are accomplished is Coach Gabe Skrinjar, the team's number's guy. Ask him any stat about a player or the team, and he can give you some interesting and intricate facts and figures. Coach Gabe joined the staff when his brother Zach assumed the job more than a decade ago. He says basketball has always been a part of the Skrinjar family's life.
"I remember that we were always at the gym and around teams from an early age," he says. "As we grew older, I would help out by keeping the book and scoreboard during the games, and then when I got to high school, played for Central Catholic and then Allegheny College. I earned an economic degree there, so that's  big reason why I am involved with the stats aspect."
In the end, however, it is the consistency of the head coach and his absolute dedication that has led to more than a decade of winning. He deflects compliments about himself and says, "I have great assistant coaches, and it has just been fun to work with them and the players. It has been a really good experience and very rewarding."