This semester, student-athlete Jack Lorence is darting from one platform to another, but even though he's running at a feverish pitch, he's having time of his life doing it.
A member of the Foxes' cross country and indoor and outdoor track teams, Jack also landed the male lead role of Emmett Forrest in the high school's 2020 musical, "Legally Blonde The Musical." The performance will be held in the high school auditorium and run from March 5-8.
Taking on such a full extracurricular schedule and trying to do everything well, has been a balancing act that's required a lot of coordination for the sophomore.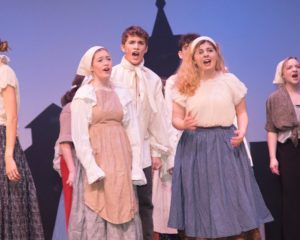 "Coach (Tom) Moul and Mr. (Ben) Murray (choral and play director) have been awesome and so flexible in allowing me to do both," says Jack. "I can't thank them enough for that because I feel bad about missing practices."
But it also has taken abundant discipline from Jack, who has taken a slew of difficult classes this semester in the hope of becoming a doctor one day.
"He's a great kid and has been one of our varsity runners since he was a freshman," says Coach Moul of Jack, who typically runs the distance events. "Because he has to miss some of our practices, he is doing many of the runs and workouts on his own. That's a sign of maturity and discipline."
Runner
When Jack was younger, he played baseball and basketball, but in seventh grade added cross country and track, and has been doing it ever since. He explains, "I was never a star player in basketball or baseball, but I felt I had potential as a runner and was always decent at it. So, after eighth grade, I decided to just concentrate on track and worked to make a jump to the next level to do better in high school."
Literally, before he left Dorseyville Middle School, Jack actually was a high jumper for the track team, as well as a cross country runner. Now, in indoor and outdoor track, his events are the distance ones, usually from the 800 to the 3,200 events. He is also part of the 4 x 800 relay team.
"I'll run whatever coach feels is best," says Jack. "What I like best about running is that you can see your hard work paying off by your times. We don't concentrate on times in cross country though, just placement, because every course is different, as compared to outdoor track where all of them are the same."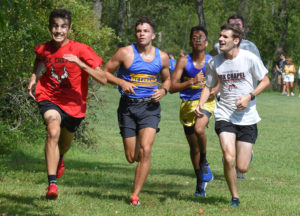 One of Jack's best recollections of cross country happened during the 2019 season scrimmage. Two of the state's best runners, teammate and Temple recruit Christian Fitch, and two-time state champion Patrick Anderson from Mt. Lebanon High School, were leading the pack the entire time, but Jack had kept up, trailing relatively close behind. A few feet from the finish line, Jack kicked in a strong final surge and beat them both.
Jack recalls the day: "I decided, OK, I'm going to sprint, and I won the race, but I was completely gasping at the end of it. For Christian and Jack, I think they were really doing more of a jog! But it was really fun to beat them anyway."
Musical Upbringing
"My mom, dad, and grandparents are all involved in music, so I've always been a musical person," says Jack of his interest in the arts. "I also played the string base in the Dorseyville Middle School orchestra, and the trumpet until fourth grade, but in high school decided to concentrate on chorus."
Besides his role in "Legally Blonde," Jack's vocal talent is so superb that he was recently selected to perform with the Pennsylvania Music Educators Association (PMEA) District 1 Chorus. But for now, he is concentrating on the movie that was adapted to a musical, saying, "I'm really excited about the show because it's going to be really, really funny."
While the musical will be running at the start of outdoor track season, after the final curtain call, Jack will be back on the track with his teammates to catch up on mileage his missed over the winter. He has a lot of motivation to do that after last year when he was a freshman and qualified for WPIALs in outdoor track as part of the 4 x 800 boys' relay team.
"Jack is extremely coachable and I'm really looking forward to seeing him continue to improve this year," adds Coach Moul. "With the departure of Christian after the outdoor track season is over, I think Jack will emerge as a leader for us next year."