Each season, there are about 20 hopefuls who try out for the boys tennis team, but this year, nearly double that amount showed up at tryouts. It was a good and bad predicament for coach Alex Slezak – he would have the luxury of a deep team, yet would also have to make some difficult decisions. In the end, the 2022 roster funneled down to include six returning starters, others with some experience, and many new freshman faces.
"Our strength this season is that all of our players, from the top of the lineup to the bottom, are very close in skill level," says coach Slezak, now in his seventh season heading the boys program.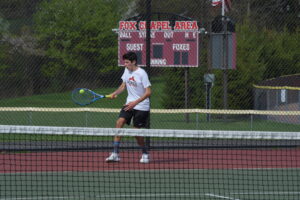 While he does have a good number of returners, the coach doesn't look to just one or two players to lead the team.
He explains, "It works like a train. The seniors pull the juniors, the juniors pull the sophomores, and the sophomores the freshmen. I am just the engine that keeps them together, and I hope to help them all grow."
While early, the coach has figured out his top lineups. In singles, sophomore Will Siegel is slotted as the number one singles player, junior Ananth Kashyap is second, and Mason Friday, a freshman, has earned the third ranking. Junior Cooper Friday and sophomore Travis Malone will team up as the top doubles duo and junior Jack Delaney and sophomore Ben Hallman are the number two doubles combination.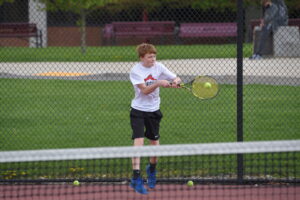 Other members of the 2022 varsity squad include senior Hugo Leboulanger; juniors Arjun Golla and Topher Ernharth; and freshmen Henry Stallings, Parker Haberman, and Ezra Shensa.
Even though there are many new players, coach Slezak is reluctant to label it as a time of rebuilding. He says, "Every year is a building year. We work to improve and get better every single day, and eventually, those little improvements add up to a big improvement."
As the players get more experience, they are looking to improve upon last year's record of 10-3 in section play, and to go deeper in the section and playoffs than they did last year.
"The biggest challenge each year is to take a group of athletes in what is really an individual sport and get them to become a true team," says coach Slezak. "At the end of the day, we win and lose together as a team."