Typically, in girls track and field, it's the veteran distance runners and relay teams that grab the most attention. While there is still much optimism for those events for the Fox Chapel Area girls track and field team in the spring season, it was actually some newcomers who attracted a lot of buzz this time – Anna Troutman, Anna Kintner, Claire Feczko, and Kate Friday.
New to the sport, Anna Troutman set two new individual school records during the indoor season in the high jump and 60-meter hurdles. She was also a member of the 4 x 200 relay team that made the history books, along with the aforementioned athletes. Anna Troutman also was the only member of the indoor team to advance to the Pennsylvania Track and Field Coaches Association (PTFCA) state championships, qualifying in the high jump.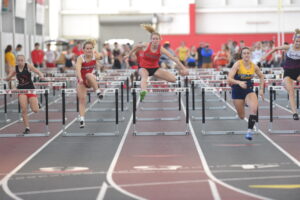 "We are extremely excited about the early production from both Anna Kintner and Anna Troutman," says jumping coach Tim McLister. "They both are very athletic and are performing like seasoned veterans, despite both being new to high school track and field. Anna Li, a junior, and freshman Claire Feczko also have improved in the long jump and triple jump."
Sprinters Eileen Healy and Rory Sauereisen should be formidable in the sprints. Another newcomer, Elsie Smith, is using her height to excel in the hurdles, and distance and relay runners Laura Carter and Clara Kelley also return.
"I'm very excited about the sprinters, hurdlers, and jumpers groups," says coach Tom Moul. "They have a lot of potential, are hard workers, and have a fierce competitive drive."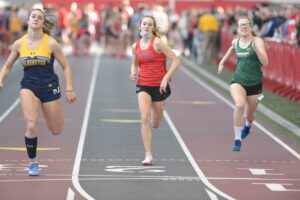 In the relays, coach Sean Mawhinney says a lot of combinations are yet to be determined.
"For example, the girls 4 x 400 is still up in the air because the girls team is very deep with a lot of sprinters," he says. "I'm also excited that many of the athletes in contention are new to the program. Many of them also play other sports, so it's nice to see some of the best all-around athletes in Fox Chapel Area come out for the team."
Additionally, look for some combination of Eileen, Claire, Carlie Barnett, Anna Kintner, and Alyssa Quackenbush to be in the mix in the 4 x 100. In the 4 x 400, Kate, Maya DiPasquale, Carlie, Skylar Byrnes, Rory, Claire, Alyssa, Bella Urso, and Gianna Tavolario all are contenders.
Last year, the girls 4 x 100 qualified for WPIALs. Carlie and Eileen were part of that group, and Carlie and Rory were on the 4 x 400 team. The 4 x 800 relay will look toward some combination of Laura, Riley McIntyre, Emily Harajda, and Gabby Kline to fill out that team and, if she is healthy, Clara.