The Foxes' boys basketball team bid adieu to 2019 with an impressive show of dominance that earned them the winner's trophy at the annual Shady Side Academy Tournament. Even without some of their top seniors, the team went to their deep bench to hand Shady Side a 45-30 defeat in the opener, and then William Penn Charter, 59-39 in the championship game.
"They all played really well," says Coach Zach Skrinjar, who celebrated his 150th career win after Friday night's game. "It was just a very good weekend for everyone, and for a number of reasons. First, we beat two good opponents. We also put many of our guys in different roles that they are used to in section play, and they performed well. We also got to give some of the younger guys some good minutes and their first starts of the season."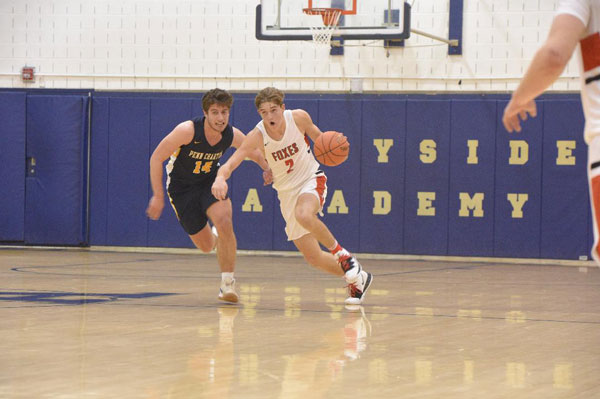 Point in case, sophomore Kent Baldauf had 12 points, including four 3-pointers. Additionally, sophomore JP Dockey was the high scorer in the Shady Side game, with 10 points. Against Penn Charter, sophomore starter Eli Yofan had 21 points and also led in rebounds, with 10. As of Dec. 29, 2019, Eli has been the top scorer (121) and rebounds (57), and senior Arnold Vento almost mirrors that profile with 120 points and 55 rebounds.
Coach Zach Skrinjar says seniors Shane Susnak and Will Livingston also are tremendous players, but people don't always recognize how important their roles are.
"I think Will played two of his best games ever," says the coach of his tournament playing. "I had just talked to him about some things after the Latrobe game, and he went out there this weekend and did them perfectly. And Shane is a very, very, very good defender with amazing talent, but his efforts often go unnoticed.
"I'm also impressed with how much Lorenzo Jenkins has matured over the past year and the confidence he's gained. He's a great athlete and is only going to continue to get better."
Year of Progress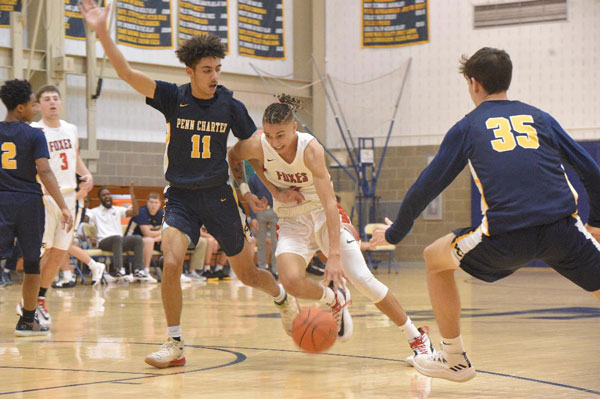 Lorenzo's personal and athletic growth isn't the only area where the Foxes have made strides. At the close of the year, the Foxes had improved in nearly all statistical measurements, as compared to the same time last season. They averaged 53% from 2-point range, 30 rebounds, 13 assists, and 12 steals per game, and have not let up more than 50 points to any opponent. Teams are only averaging 42.7 points against the Foxes.
The group's balanced attack on both offense and defense, a plentiful bench, and consistent efforts from every player all season earned the team a year-end second-place ranking in WPIAL 6A by the Pittsburgh Post-Gazette. They also are the sole team to remain unbeaten in 6A.
While the recognition is nice, Coach Skrinjar says rankings are just numbers and opinions. What's happening on the court in every practice and game is more important to him and the players.
"We know who we are and what we have to do. We also know we have a bigger bull's-eye on our backs this year, but we embrace that. What we're working on now is going from being a good team to a great one," he says.
Skrinjar Recaps his "Best of…"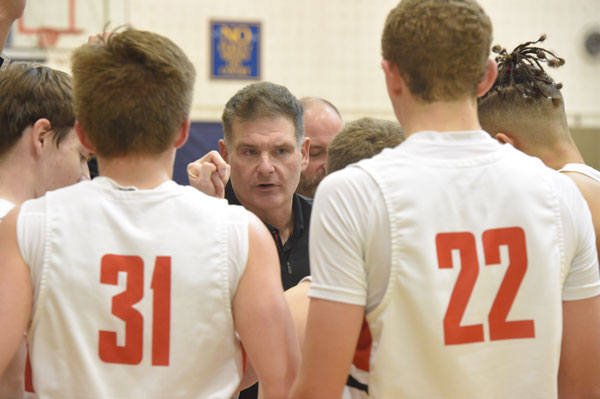 Now in his 11th year at the helm of the boys team, by all appearances, Coach Skrinjar might be headed toward his best year yet. While it's still way too early to call what the season will hold come March, he does have a few milestone memories when reflecting back on the years that led up to 150th win.
"I really didn't know about it until someone told me a broadcaster for the Latrobe game mentioned that win was my 149th," he says. "It's pretty unbelievable, considering I got my 100th in 2017. It seems like it happened so quickly."
Many of his greatest recollections are about current and past players and their parents. At the home Latrobe game on Dec. 23, Coach Skrinjar he says he spent at least 25 minutes afterward talking to former players who came to the game over their Thanksgiving break. "It's always a joy seeing them. There are a lot of memories that were made in that gym."
However, the coach says his greatest memory of his coaching career at Fox Chapel Area was one particular game that was played about seven years ago.
"We played Gateway and beat them on a buzzer shot when they had had an undefeated season and later went on to win the WPIAL championship," he says. "It had been our worst season since I came, but after that game, something just changed for the program. It was a pivotal moment, and we haven't had a losing season since then."