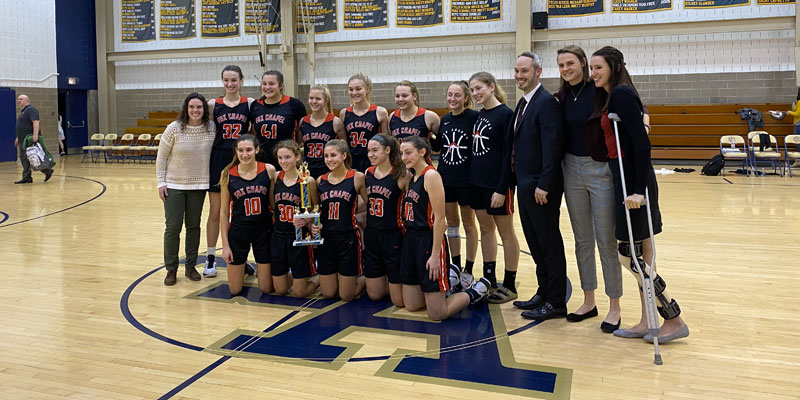 The Lady Foxes wrapped up a nice holiday gift for themselves the weekend of December 28 by winning their second consecutive Shady Side Academy Holiday Basketball Tournament. The first day of the invitational also was a special one for head coach Marty Matvey, who gained his 50th career win as a head coach. It was not only a personal milestone for the Foxes' first-year coach;  the team's win over Avonworth, 45-33, in the championship game gave the girls a big confidence boost as they head into the grind of the season.
Prior to the final game, the Foxes commanded the court with a 52-29 defeat of Knoch.
The Foxes' tournament high scorers were juniors Ellie Schwartzman with 26 points and Domenica Delaney, who contributed another 24. Domenica also held Knoch's leading scorer, who is averaging 18 points a game, to two points. Freshman Elsie Smith added another 15 points and Gabby Guerrieri had 13. Newcomer Elsie was the top rebounder of the weekend with 21, while Ellie grabbed 20 under the hoop.
"Gabby also shot really well for us in the Knoch game and has been a great leader for this team, and Elsie had a fantastic weekend and really gave us a different look," says Coach Matvey. Elsie  got her first start of the season against Knoch.
"I was nervous, but I think I did well," Elsie says. "The experience helped me to not be afraid, and for our team, we proved that we could win. We need to continue to come out hard, be more aggressive, and work harder in practice. We want to prove that we can play against good teams really well."
"What happened was what we were hoping for," Coach Matvey states. "Our goal was to get off to a fast start. Over the two days, and we did that. We outscored our opponents in all but one period. It was a good test for us."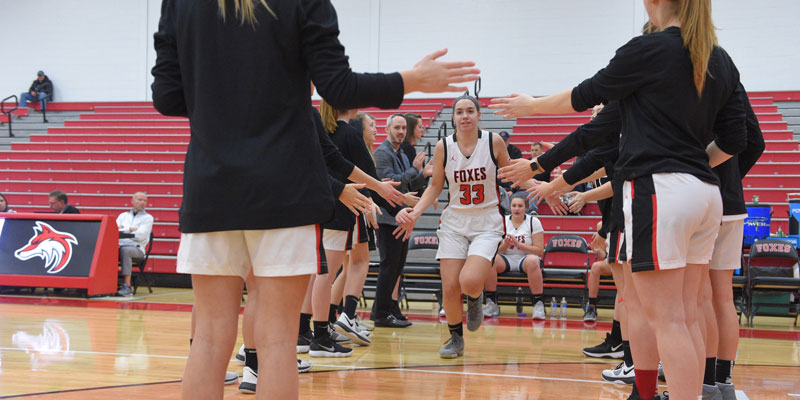 Marissa Ritter, a junior forward and shooting guard who was also on last year's tournament-winning team adds, "It felt really good to win the championship again. Our wins, especially the one over Knoch, were good  examples of what we can do when everyone is giving 100 percent."
That's something the girls will need to rely upon as they head into a tough schedule where every game is a must game, given the Foxes' section record so far.
"North Allegheny and Butler were games that we let go of, " says Marissa. "With North Allegheny, we were winning up until the end of the 3rd quarter. Butler was a really frustrating game, because we know we can do better. Beating both of them when we play them again is definitely one of our goals."
Coach Matvey adds, "We just need to keep up the momentum and treat every game as if it's the biggest one of the year. We constantly stress to the ladies that we need to have fast starts and need to achieve the standards we have set for ourselves as a team and program."