When Chuck Stover was a young teacher, just starting his career in the late 1960s as a Dorseyville Middle School math teacher, he was asked if he wanted to earn some extra money by videotaping high school football games. He thought it would be a good way to supplement his family's income, but he probably never imagined he'd still be doing it more than 50 years later. It's a pastime that eventually grew to include eight teams, and he traveled to all of the away games with three of them. Yet, few people probably realize the very important – and perhaps underappreciated – role he has played in the success of Foxes athletics.
Many Memories
Long retired from teaching, Chuck is now winding down a hobby that has allowed him to follow thousands of Foxes student-athletes, many of them his former students, and their teams. He has many fond memories of his decades in the press box, including the times he traveled with some of the Foxes' most outstanding teams and athletes when they advanced to the WPIAL and PIAA finals.
"Some of the games that stick out to me are the 1977 PIAA boys basketball championships when Fox Chapel won the state championship; the 1987 boys soccer state finals when they lost on a penalty kick; and then, in 1990, when boys soccer won the state championship," says Chuck. "The same day that we won the boys' soccer state championship in 1990, (former Foxes and Hampton coach) Mark Perry asked me if I would videotape his Hampton team. They were a WPIAL class below us, but both teams were playing in their championship games. Both teams won, so I taped two championships in one day."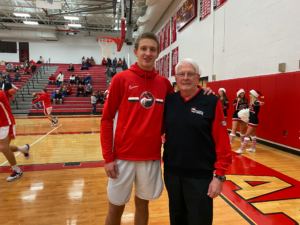 In more recent years, Chuck accompanied the field hockey team when it won six WPIAL championships and once to the PIAA playoffs, and, last year, girls basketball when it made it to the PIAA playoffs. While there have been many exciting and nail-biting games over the years, Chuck says, "I learned early on that you can't get involved emotionally in a game too much, or you will miss something and make errors."
"It's been a privilege to have Chuck as part of our athletic department for all these years," says Fox Chapel Area Athletic Director Mike O'Brien. "I don't think people realize what a large role he has played behind the scenes in our teams' successes. It is not an overstatement to say that Chuck's work has served as a crucial building block to help better our teams and athletes and prepare them for competitions. His work also has supplied film for countless athletes to assist college coaches as they review and evaluate talent for possible college scholarships."
A Changing World
"It's been a nice activity for me, and I enjoy being around the people at events and then following the students from the time I had them in class at Dorseyville, and then as they've moved on to the high school," says Chuck, who has covered 51 football season and estimates that, at his peak, he attended about 110 games a year, and often attended up to six competitions a week.
Technology has advanced over the years, from when Chuck first used 16-mm movie film and had to physically take film to a lab for processing. "When videotape became available, it cost so much less, so we used that, and then in the '70s, we started using a video camera with audio and transferred everything to video cassettes (VHS)," Chuck explains. "Now, it's strictly digital memory cards, and they can be uploaded and distributed pretty quickly."
Another advancement in videotaping football games has been the ability to instantaneously upload Chuck's film onto iPads for the coaches to use on the sidelines as a teaching tools.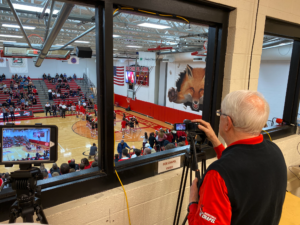 Perhaps one of the biggest and most impactful changes for Chuck and high school sports was the introduction of companies that use sophisticated software that allows coaches and athletes to analyze games and individual performance. "In 2014, in what was then WPIAL Class 4A, the athletic directors and coaches got together and mandated all film was to be exchanged through Hudl, a software being used throughout the country to exchange film online," says Mr. O'Brien. "The demand for this technology has really changed how games are coached and played."
"This really changed things," adds Chuck. "After games, we need to upload film to the Hudl portal by 9 a.m., the following morning. "Athletes can then make their own highlight films for college recruiters to see by selecting 'markers' that identify themselves in various game situations. I remember one of the girls' basketball games that was over at 7:30 p.m., and it was up within an hour, even before some of them had even left the building."
Regardless of what new technology has brought to high school athletics, it's still Chuck who makes it all possible.
Winding Down
Last year, Chuck began winding down the number of games he filmed. His son stepped in to help out. About six years ago, high school social studies teacher Lesley Cowles also started to help out Chuck by filling in for him when there was a scheduling conflict. Then, last season, he let go of a little bit more by handing down to Dr. Cowles the responsibility of videotaping most of the girls' games.
But, once the 2019-2020 sports season concludes, Chuck will put away his video camera for the last time. And maybe he's picked just the right time to call it a day.
"The high school will be installing Hudl Focus next year," he explains. "The new device has a smart camera with live streaming capabilities that automatically records and uploads games to Hudl. It will replace the need for a human to record games, with maybe football being the only exception. Someone will still be required to videotape those games."
But it won't be Chuck. The plan is for his son to take over that duty.
Everyone deserves their time in the spotlight, and this is Chuck's, although it's long overdue. So, if you happen to see Chuck at a basketball game this winter or a lacrosse game in the spring, it might be nice to acknowledge and thank him for the contributions he's made to the Foxes' athletic programs. After all, 50 years is a long time to produce something so visible, while personally remaining very far in the background.