Oct. 1 was one of the hottest days of 2019, and close to a record high for a fall day, but even hotter was senior Scott Bitar, who played the best game of his high school career and became the new WPIAL Class AAA individual golf champion.
From the beginning, Scott felt great, got off to a fiery start, and ended up beating a field of 35 other golfers by six shots.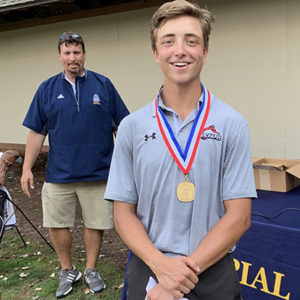 "My wedges were really good and so was my putting," says Scott, who medaled in sixth place last year. "I hit the ball very well. Some days are better than others; this was a good day. I was very excited to win and felt great to do it as a senior, and in my final year of high school golf."
"Scott was extremely focused and confident, and dominated the course," says Coach Bryan Deal, who has led three players to become WPIAL individual champions in the past six years. "He was absolutely in the 'zone' today. He had great course management and really played flawlessly. All of our Fox Chapel golf family is very, very proud of him."
The senior's strategy for the day was to focus on one shot at a time. He purposely didn't look at the leader board until right before the 18th hole. He says, "I did a good job of not getting too far ahead of myself, other than until the 16th and 17th holes, but I brought it back on the 18th."
It was also a great day for jun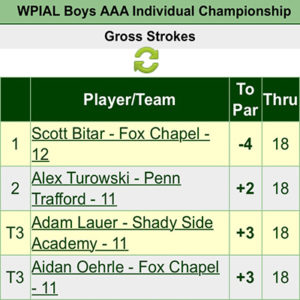 ior Aidan Oehrle, who placed third and will advance to the WPIAL AAA western regionals along with his teammate. Seniors Amani D'Ambrosio also competed and finished 14th, and Will Livingston shot a commendable 76.
The Grind Ahead
Although Scott is a great athlete, he does not consider himself a runner, and never really took it up as a hobby or competitive sport. Over the past few weeks, however, he has been running every day and, on the morning of the championship, he put in about four miles. Coach Deal adds, "I don't know what motivated him, but whatever it is, he needs to keep on doing it!"
Those kinds of workouts will help him over the next weeks when the real grind begins. To close out the regular season, the team will compete at the Seneca Valley invitational, a dual match with Shadyside Academy, and then they will compete at the October 8 WPIAL Class AAA team semifinals. The PIAA western region individual championship will be held October 15 at Tom's Run Golf Course, and then the season will conclude with the PIAA individual and team finals October 21 and 22 at Heritage Hills Resort and  Conference Center.