Beginning with their summer workouts at North Park, Coach Tom Moul had a feeling that this year's boys' cross country team could compete with the top WPIAL contenders. Having just captured the WPIAL Class AAA Section 4 championship with an 8-0 record, it appears they are on a good path to reach that goal.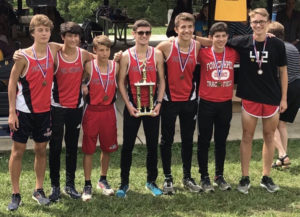 Additionally, senior Christian Fitch won gold for his individual performance.
"I talked to the boys a lot over the past week or so about having to really focus, especially on the kids running for Indiana, our main competitor, because they were the state runner-up last year," says Coach Tom Moul. "They are a really good team and only lost one runner to graduation. I was a little nervous for them going into the race, but to see the guys set a goal, and then make it happen, was really rewarding. I'm very proud of them."
Over the course of the season, Coach Moul says he has seen a lot of improvement in the boys' team, especially from juniors Shane Funk and Ryan Kenyon, and sophomore Jack Lorence.
PIAA and WPIAL medalist Christian, who just gave a verbal commitment to Temple University and was offered full academic and athletic scholarships to run cross country and track, was so far ahead of the pack that no one was remotely close to him at the finish line.
The next step for the runners is the Tristate Track Coaches Association Championship to be held Oct. 17 at California University of Pennsylvania. The course is the same one used for the upcoming October 24 WPIAL Class AAA Championship and gives athletes a good chance to experience the route prior to WPIALs.