Each year at the conclusion of WPIAL section play, golf coach Bryan Deal takes his team to compete in a highly regarded tournament in Dublin, Ohio. It's a special trip for several reasons. First, it prepares his team to play on the road as they get ready for the WPIAL and PIAA individual and team playoffs. The location brings back some fond memories for Coach Deal. It was here, in a town just outside of Columbus with a population of about 40,000, that he won an Ohio state football championship in 1995.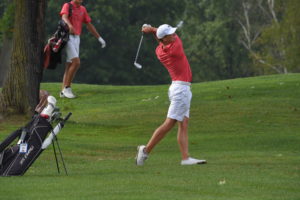 The feeling of elation and excitement that goes along with winning an esteemed championship is an unforgettable experience and something that Coach Deal believes is totally possible for his Fox Chapel Area boys' golf team. The team just captured the WPIAL Class AAA Section 4 team championship for the 28th time in school history with an undefeated 12-0 season. The group now advances to the WPIAL Class AAA team championship semifinals on Oct. 8 at a site to be determined.
"We've been so close in the past," says Coach Deal, "and this year's team has performed exactly as expected to this point, but there are no guarantees. We still have to practice and take nothing for granted as we get ready. We prepare one day at a time, and according to what's best for the team. As opposed to individual play, where you might be tempted to take a risky shot, in team play, we don't want them to be heroes. We want them to take the safe shot that is more likely to result in something positive for the team."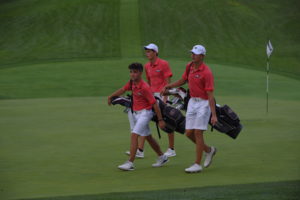 Going into the WPIAL Class AAA team playoffs, the Foxes bring a powerful lineup of experienced golfers, including newly crowned WPIAL individual champion Scott Bitar, a senior, and junior Aidan Oehrle, who placed third at the championship. The Foxes' deep lineup also includes seniors Amani D'Ambrosio (14th at the championship), Will Livingston, Matt Mattioli and Brevin Urso.
Coach Deal adds, "We have multiple kids this year who have proven they can go low (in scoring) at any given time. A lot of the preparation during the season and postseason involves preparing the mental aspect of the game. I've known these kids for a long time and, in addition to preparing them mentally, we continue to work on our course management, preparation, and execution. The bottom line is that these kids have talent. They just need to be prepared for the grind and play smart."