If Foxes' basketball player Dom McGriff had his way, he'd just as soon sit back and let his new teammates get all of the media attention. Yet, his presence on the court has been so dominant that it makes his wish nearly impossible and begs the question, "Who is he and where has he been?"
"We always knew about Dom and his talent, but in the end, he never decided to play," says Coach Zach Skrinjar, who has high praise for his player.
In fact, the last time Dom, a senior, had played organized basketball prior to this year was in eighth grade, but he says he wasn't enjoying it anymore and preferred to watch the game as a spectator.
In the end, it was Foxes' senior guard Justin Supsura and junior guard Ben Kelly who kept after Dom and finally convinced the left-handed player to join the team.
"Dom has fit in since day one," says Coach Skrinjar. "One of the best things about Dom is that he has no ego and he lets his play do the talking. I, for one, am happy that some of the guys on the team encouraged him to play, and I think Dom is happy with his decision too."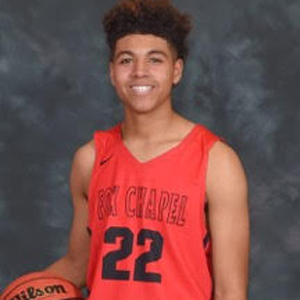 "I knew I would never get another chance to play, so I decided to do it while I had the opportunity," Dom says.
Since he made that choice, Dom has been putting up numbers that belie his four-year hiatus from the sport. He averages 12.8 points a game, leads the team in rebounds, and has impressed his coach and teammates with his efficiency and shooting ability.
"Dom is shooting 65.9 percent from the field, which is an amazing percentage," Coach Skrinjar says of his player who is adept at every position on the court. "Historically, most great players shoot 46 percent. He is also very unselfish on offense, maybe even to a fault at times, and his ball fake and the way he uses it may be one of the best I have seen in high school basketball."
"I think my ability to get to the hoop and rebounding are two of my strengths," Dom says. "Even though I'm not the biggest guy on the court, I like the challenge of getting that extra chance to get the ball and put up points."
Perhaps the most amazing part of Dom's story is that he really hadn't kept up with his skills since his eighth grade playing days, other than playing pick up, although he did play in a low-key summer league last year that only played twice a week.
"There are very few guys like Dom who have the skill and natural talent to step in and contribute in varsity basketball like he has," Coach Skrinjar adds. "He's a rare case."
In retrospect, Dom admits, "Looking back, I definitely should have done it sooner. It's a good feeling knowing I'm doing something well."
That might be the understatement of the season.