The energy on the deck was crazy on Feb. 3, when the girls swimming team beat Franklin Regional and all but wrapped up the WPIAL Class 3A section 3 title. On Feb. 13, they made it official, and in grand style, with an easy win over Shaler Area High School. For the seniors, going undefeated was a was a fitting conclusion to their regular season when so many records were broken, and a perfect bookend to the section title they won as freshmen.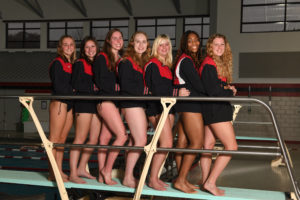 "We all have worked so hard to get here, and it's amazing!" says senior Leia Ross. "Beating the perennially good teams like Franklin Regional is a goal from day one of practice."
"I was confident that they were going to get it (the section title) this year, and with the addition of the incoming freshmen class, I knew we had a very good opportunity to win," says Coach Dan Taylor.
This season so far, seven pool records and two school records have been set by members of the girls team. Talia Bugel set a new school record in the 100 backstroke, and Sophie Shao set one in the 100 fly. Both girls are freshmen.
New Pool Records
200 medley relay – Talia Bugel, Sophie Shao, Rei Sperry and Vivian Shao
200 free – Leia Ross
100 fly – Sophie Shao (pool and school record)
200 free relay – Sophie Shao, Eden Brush, Rei Sperry, and Julia Stutzman
100 back – Talia Bugel (pool and school record)
100 breaststroke – Sophie Shao
400 freestyle relay – Talia Bugel, Leia Ross, Vivian Shao and Grace Gackenbach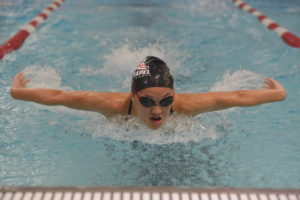 "Adding to our experienced swimmers, are a lot of very committed freshmen who have stepped up and are doing very well," says Coach Taylor. "It is a testament to their talent and work ethic. Overall, going into WPIALs we have some really good seed times. Our goal, obviously, is to qualify all three of our relay teams and be in the top eight in all of our events. For certain, as a team we want to finish higher than we did last year when we were sixth. I'm hoping when WPIALs are over, we will have set more new school records. Our racers are prepared and excited to compete."
The 2019-2020 WPIAL Class 3A swimming championships will be held Feb. 27-28 at The University of Pittsburgh Trees Pool.
Girls Qualifiers
Relay Teams
All of the girls relay teams
100 breaststroke
Sophie Shao (ranked #2 in the WPIAL) and Ariana Pasquella
100 butterfly
Sophie Shao (ranked #1 in the WPIAL) and Rei Sperry
200 IM
Sophie Shao, Rei Sperry, Talia Bugel, Leia Ross, and Vivian Shao
50 freestyle
Sophie Shao, Talia Bugel, Vivian Shao, Julia Stutzman
100 freestyle
Talia Bugel, Vivian Shao, Rei Sperry, and Leia Ross
200 freestyle
Leia Ross, Grace Gackenbach, Talia Bugel, Vivian Shao, and Sophie Shao
500 freestyle
Grace Gackenbach, Talia Bugel, and Sophie Shao
100 backstroke
Talia Bugel (ranked #1 in the WPIAL), Leia Ross (ranked #5 in the WPIAL), Rei Sperry, Sophie Shao, and Grace Gackenbach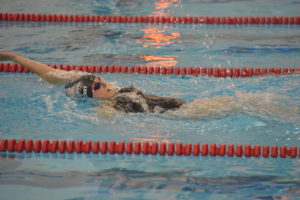 ---
In addition, a number of Fox Chapel Area boys swimmers qualified for the WPIAL championships:
Boys Qualifiers
100 breaststroke
William Wang
100 butterfly
William Wang
200 IM
Jake Sperry
200 freestyle
Jake Sperry and Addi Pattada
50 freestyle
Nate Serkov and Nate Anderson
500 freestyle
Jake Sperry
100 freestyle
Nate Ross and Addil Pattada
100 backstroke
Jake Sperry and Nate Ross