Fox Chapel Area football coaches John Alerich and Mark Shemanski share many memories of the various Foxes teams over the years, and some are sweeter than others. But with the team's upset win over Upper St. Clair in the first round of the WPIAL Class 5A playoffs this past Friday, they couldn't help but recall their own experiences with the 1997 team, the last squad that was able to advance beyond the first postseason competition – until now.
In 1997, it was Coach Shemanski's first season with the district, and only his third year coaching. His maiden two seasons were spent at Penn-Trafford – ironically the team the Foxes will face in the quarterfinal round of the WPIAL Class 5A playoffs on Friday – and before that, he had been a student-athlete at the University of Pittsburgh, where he played linebacker on the football team.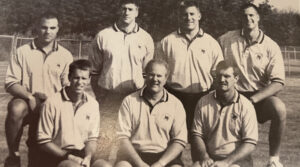 That year, Coach Alerich was a sophomore on the Foxes team and played various positions, including center, guard, and tackle. One of his teammates was, ironically, Upper St. Clair's present-day offensive line coach, Pat Corr. 
Coach Alerich shares his memories about the two tenacious teams who don't seemingly share a lot in common, other than they both have a team of determined players whose head coaches are hall of famers.
"The '97 team was ranked second in the state, and we had two 1,000-yard rushers," says Coach Alerich. "Our offensive and defensive lines had some very big players."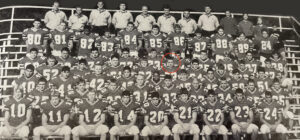 Coach Shemanski describes his first Foxes team as a "coach's dream team," yet, ironically, says this year's first-round upset over Upper St. Clair was more rewarding than their WPIAL first-round win against North Allegheny some 24 years ago. Coach Alerich agrees.
"For this team to pull together after losing their starting quarterback at the end of the year says a lot about their motivation to win," Alerich adds. "A lot of teams would have mentally folded when faced with that situation. I will say, personally, I got more out of (last Friday's) win, because no one outside of our own locker room expected us to win."
Coach Shemanski adds other insights. "This game really meant a lot to us. In '97, the team had no injuries all year, except in the very last game, one player was hurt. This year, we started off the first few games short 23 players due to various reasons, including injuries. Going into the USC game, we still had key players out. As coaches, we didn't know what we had going into the playoffs. Everything was up in the air. So, for our kids to come out and play a really solid game against USC, who has done very well historically, they did an absolutely fantastic job, even with all of the adversity they faced."
This week, the Foxes once again will face Penn-Trafford in the second round of the playoffs. The Foxes '97 team was the heavy favorite, but that's not the case this time around.
"It was a very close game," Coach Alerich says. "Penn-Trafford had (at that time), the leading rusher in WPIAL history. It came down to a couple of plays, and it was a heartbreaking loss for us."
While this year's team knows they are the decided underdog, they also have proven they have the ability to play high-caliber teams and be successful doing it. Plus, they like being underrated – it just gives them more motivation to prove they are much better than others think.