When Zach Skrinjar accepted the position to head the Foxes boys basketball program 13 years ago, starting a youth developmental program was one of his priorities. He envisioned it as a series of clinics where children and preteens from the community could learn some skills at whatever level they were at and have a fun time doing it. Ever since then, the "boot camps," as the coach calls them, have been a success, perhaps now more than ever, as they are co-ed for the first time.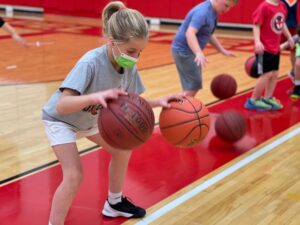 Coach Skrinjar is very involved with teaching the basketball players of the future, along with his varsity and junior varsity staff and some of the coaches from the Dorseyville Middle School program. Most of the current players from the high school team also help with the instruction.
"All of our current varsity players, and almost all of our past varsity players from the past 12 years have come up through that program," says Coach Skrinjar.
That is one of the best aspects of the program – it draws together students from all of the district's elementary schools who, otherwise, might not know each other until years later. As they learn the fundamentals, they gain experience and develop a camaraderie that is well-established by the time they reach high school.
One of those players is senior Russell Fenton. He started going to the clinics at a young age and says he's never really stopped going. He has been involved in some capacity for years and now serves as a coach at them.
"I remember wanting to go because I was a big fan of the program and a frequent attendee at games," says the scholar-athlete. "The varsity players may as well have been NBA players from my perspective. I always looked forward to camp because it was always fun to interact with and get to know them."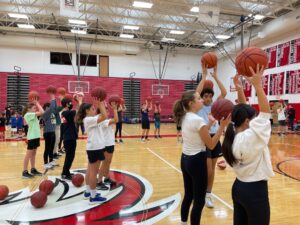 Of his experience, Russell adds, "I learned the specific things that the coaches were looking for. My early exposure to them at camp definitely benefited me when it came time to play for the high school team."
Another youth program, Little Dribblers, will begin December 1 and is open to boys and girls in kindergarten to grade two. They also will perform a dribbling routine on January 7 before the boys varsity game versus Hempfield.
Little Dribblers clinics will be held December 1, 8, and 15, and January 3. For more information, please contact Coach Tom Reighard at [email protected] or click here.
Varsity News
The Foxes varsity basketball team returns a number of players for 2021-2022 after having a tremendous season last year. They were the WPIAL Class 6A Section 3 champions for the second consecutive year – the first time the program had earned back-to-back championships since 1967.
In addition to Russell (Big 56 second-team honoree), three other players from last year's starting lineup are returning. Jake DeMotte (Big 56 honorable mention), JP Dockey (Big 56 all-section first team, all-WPIAL first team), and Eli Yofan (Big 56 first team, all-WPIAL first team, PIAA 6A all-state third team, and WPIAL Class 6A player of the year) are determined to make their senior season their best yet.
Additionally, last year the team went 20-3 overall and advanced to the WPIAL playoffs. Coach Skrinjar was named the WPIAL Class 6A Section 3 coach of the year.
The 2021-2022 season opener will be December 10-11 at a tournament sponsored by North Hills High School.