The long-awaited call finally came in at roughly 4:30 p.m, Saturday, April 29, on a day that had started out overcast with a looming spring rain and then turned into a beautiful sunny afternoon. Adam Bisnowaty's day had started out much the same way as he nervously waited to see if he'd get drafted into the NFL after enjoying terrific athletic careers at Pitt and, earlier, at Fox Chapel Area High School.
It was New York Giants' head coach Ben McAdoo who eventually called in the sixth round of the NFL Draft after the organization had traded up to get Adam and, consequently, relinquished its right for a final selection in the draft.
Of course, Adam quickly told the coach he'd love the opportunity to play for the team and breathed a huge sigh of relief now that this part of his future was finally determined. There were no television crews around to record the dream that only comes true for about 1.5 percent of all NCAA football players, but it was rather appropriate for a guy who is known for his humility.
In fact, in addition to being known as humble, the new New York Giant has been called many other things, including an exceptionally hard worker, a community volunteer, kind-hearted, and, ironically enough, a gentle giant. But put him on the turf, and the 6'6", 304-pound offensive tackle morphs into what has been described as an overly aggressive mauler, someone who plays with an edge and doesn't mind extra contact, and a downright nasty player nicknamed "Biz-Naughty."
Adam is okay with all of those descriptions, and even relishes his on-field reputation as a tough player. But the four-time All-ACC and five-time All-Academic honoree understands fully well that the ferocity he's been known for thus far will be tested greatly when he's among more experienced, older players. He says, without a doubt, he's up for that challenge.
"I'm just ready to get back to what I love, and that's football," says the former Pitt offensive tackle who has a more relaxed tone in his voice now that the draft is over. "I'm ready to use my physicality and work hard to be the best player I can be, and the best player in my position. I actually love being able to prepare all week for an opponent and, when playing them, have the picture-perfect visualization, or the déjà vu, of that happening in practice," says the new New York Giant.
In addition to the physical and technical improvements he knows he must attain to play at the professional level, Adam also will be tackling a playbook that could contain up to 1,000 different game-day options, and he must do so in a very short amount of time. That shouldn't be a problem for the scholar-athlete who earned both a bachelor's and master's degree before graduating from Pitt and is known for his keen football IQ.
Thankful to Move Forward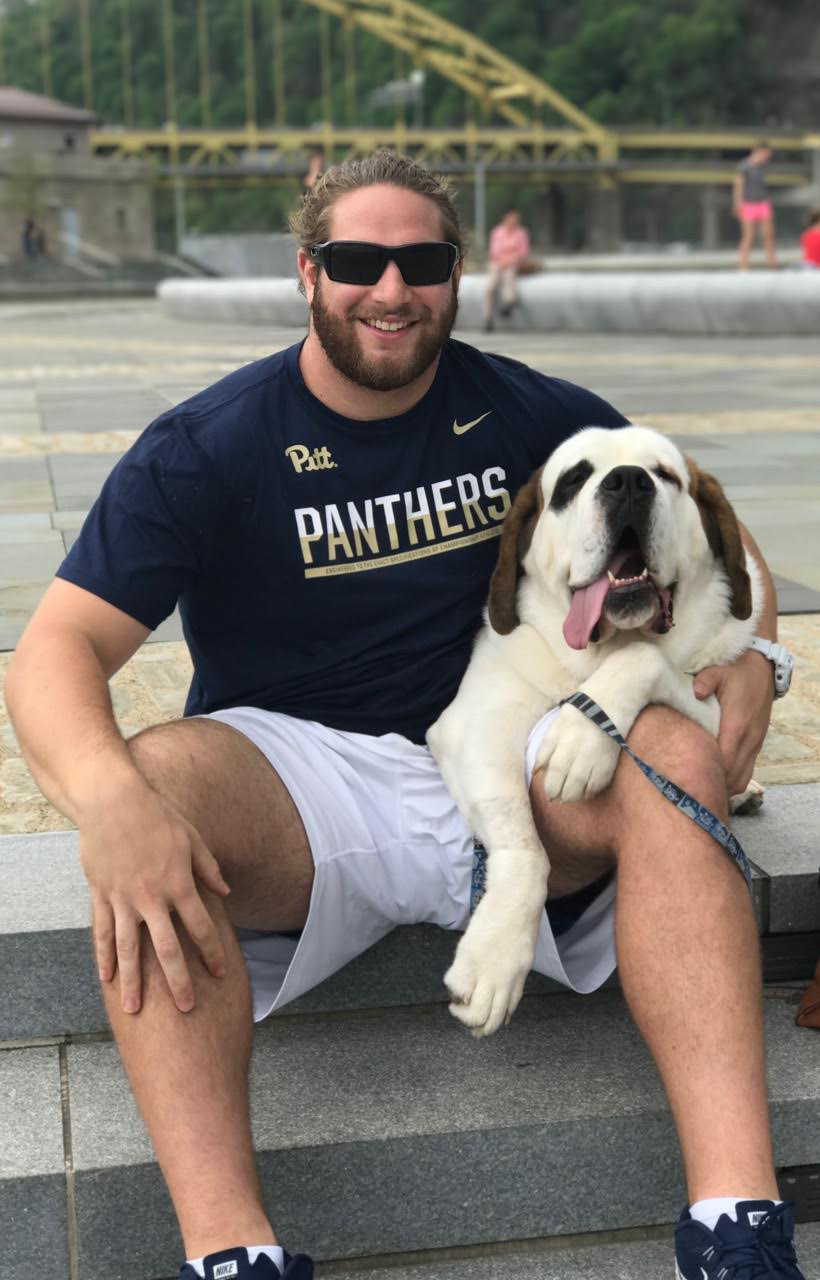 Now that the draft and everything leading up to it is over, including the NFL Combine, for which he rigorously trained for 2 1/2 months in California, there is abundant enthusiasm in Adam's voice. He admits he's especially glad to never have to participate in another NFL Combine again – an experience he claims was one of the most intense and grueling of his life. While much of the Combine is about performing at the highest levels, getting little sleep, and meeting with many team and media reps, he recalls a humorous segment during one interview.
"Mostly, you get asked the same questions over and over again," relates the runner-up for the esteemed ACC coaches' Jacobs Blocking Trophy. "But every once in a while you'll get some that are a little unusual. For example, someone asked me, 'Would you rather be a cat or a dog?'"
That was an easy answer for the outdoorsman and proud owner of Frank, his St. Bernard, and his Corgi named Bentley, who love nothing better than when Adam and his girlfriend Katherine take them to Frick Park, the waterfront at Point State Park, and various local dog parks. Now they'll need to discover other favorite spots and create memories in their new home.
Mentors Help Overcome Early Challenges
Adam's rise to eventually becoming a New York Giant wasn't always an easy one, especially when he was young, but he downplays his struggles saying, "Everyone has a story; mine isn't so different from a lot of others."
Maybe not so different, but it did involve something that seems to remain a timeless problem.
"I was a chubby kid growing up and was constantly made fun of for being so big" he reveals. "I weighed 250 pounds in seventh grade. Back then, I would have laughed if anyone told me I'd be where I am today. But then people started to encourage me to use my size to my advantage, so I joined the wrestling and football teams and threw the discus for the track and field team. The funny thing is, before I started playing, I never really liked football all that much, but I found that in sports, since I was bigger, I was better. I kept working harder and harder until I developed the athleticism and skills to continue playing football in high school and college, and now at the highest level."
His progression to a professional athlete really started to gel in the years he played offensive tackle for the Fox Chapel Area High School Football Team. At that point, he started to take football more seriously, gained a lot of maturity, and became one of the most heavily recruited players in Pennsylvania. Adam drew interest from dozens of NCAA Division I schools and was having a hard time deciding among Florida, Purdue, the University of Michigan, Michigan State, and Pitt. His gut told him there was no better place than home, so he accepted Pitt's full scholarship offer. The foundation he had worked so hard to build in high school flourished into a trophy-studded career after being redshirted in his freshman year. He went on to win many prestigious awards for his performance on the field, and was instrumental in his senior year in leading a high-energy offense that scored the most points in university history.
But, as a realistic person who knows his football career will end at some point, he's very proud of earning his bachelor's degree in rhetoric and communication and a master of science in health and fitness. In fact, he had fully intended to attend graduation ceremonies for his latest degree, but then a little thing call the NFL Draft intervened that weekend.
Giving Back
Those who know Adam say about the only thing that might be bigger than his massive frame is his heart. Few people know how many hours he spent quietly visiting the sickest children at Children's Hospital of Pittsburgh of UPMC, mentoring at-risk youth, and donating his time to help out at football camps. Although he usually dodges praise for doing something he is so passionate about, the ACC and Pitt have recognized him for his community service. It's also been a way for him to pay forward the many boosts he received throughout his life, especially when he was growing up and needed it most.
Among those whom he credits for helping him to become the man he is today are Fox Chapel Area teacher and coach Brandon Peifer, and the district's director of athletics Michael O'Brien. To this day, both remain trusted confidants and close friends.
"Brandon was my wrestling coach at Dorseyville Middle School and then when I got to high school, he was my strength and conditioning coach and football position coach," Adam says of the man who often times would pick him up at his house at 5:30 a.m. so he could work out before classes started. "He understood my potential and encouraged me to maximize it. Mike was also someone who believed in me and has always given me good advice that I could count on. I've been very fortunate to have such a strong support group, and that includes my mom, who worked hard to maintain our lifestyle as a single parent. I learned my work ethic from her."
As Adam now looks ahead to a life in the Big Apple, there's a large part of the Fox Chapel Area that he'll take with him. The friendliness, kindness, and helpfulness that people in this community and Pittsburgh are known for surely will be welcomed in his new surroundings and make him one popular Giant, literally and figuratively.