Four track and field athletes from Fox Chapel Area will be making their first trip to Shippensburg University for the state championships after earning top medals at the WPIAL Class 3A tournament. Seniors Domenica Delaney (300-meter hurdles), who set a new school record, and Jessica Jing McCann (discus), junior Caleb Kulikowski (javelin), and freshman Laura Carter (3,200) all will compete at the upcoming state meet on May 28.
Four top finishers in each category automatically qualified for the PIAA Class 3A championships, along with those who met the state-qualifying standard, up to eighth place.
In total, Fox Chapel Area brought home eight medals from WPIALs, and although all individuals outperformed what they thought they could do, everyone did not make it to the next level. Still deserving of recognition are seniors Dorian Gomez and Cam Wilson, and junior Jack Lorence. Dorian placed sixth in the triple jump at 42'04'.25; Cam ran a 51.01 in the 400-meter dash and finished sixth. Jack ran the 3,200 in 9:51.45 and was fifth. In addition to her state-qualifying time in the 300-meter hurdles, Domenica placed sixth in the 100 hurdles with a time of 16.15 and has been close to setting a new record in that event as well.
"I don't know if we have ever had eight individual medalists at WPIALs before," says track and field coach Tom Moul. "Before big meets, the coaches always talk about what a good day would be, and this exceeded our expectations."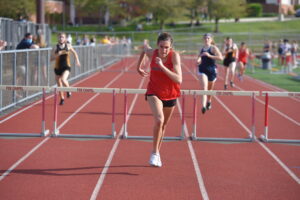 Domenica, also a star basketball player for the Foxes, was thrilled with her second-place 300 hurdles time of 46.59. The previous record of 46.9 was set in 2007 by Natalie Stewart. Domenica only started running the hurdles and sprinting when she was a sophomore and, with the pandemic shutting down the season last year, she went into WPIALs with only one year of meet experience.
"I was so shocked that I was able to do that," says Domenica. "It was my fourth event of the day and it was so hot. I just put it all out there and pushed myself as hard as I could. I definitely wanted to get up there (as a top medalist), and I did, but it still took me by surprise."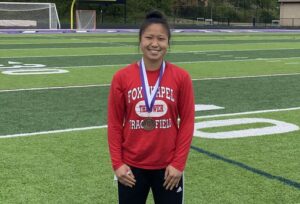 After breaking the school record in the discus four times this season, Jing's solid throw and third-place finish at WPIALs put her in contention for a state medal. Her most recent record was a throw of 123'2", a four-foot improvement over her prior attempts. While her throw of 121' at WPIALs didn't surpass her personal best, she was satisfied.
"I'm happy with my performance (at WPIALs) because I didn't choke under pressure and I was able to accomplish what needed to be done in order to qualify for states," says Jing, who has spent thousands of hours perfecting her technique and recently was named an All-American Strength and Conditioning Athlete of the Year. "I'm proud of how far I have come. It's rewarding to know that hard work does pay off."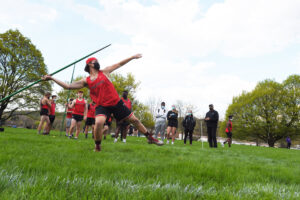 Caleb threw a personal best of 164' and finished third, but not in an event he had imagined. Discus and the shotput have been his focus, but this year he decided to give the javelin a try, too. When he qualified for states, no one was more surprised than him. "I was in first place going into the finals, but then was passed up, but I am so excited about going to states.
"I didn't start the javelin until maybe the third or fourth meet (this season). At the beginning, I had to work on my technique, but once I got that down, it just all came together. Jing helped me a lot and I am really thankful for her help, and my coaches for their support."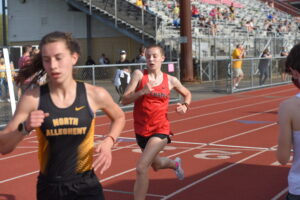 Laura's time of 11:06.69 was enough to win her a top-eight bid to states, but she says wants to do better. "I definitely went out too fast in the first lap. After that, it was hard to run a smart race because I'd put myself in a position where I knew I would qualify if I stayed in it at that pace, and I didn't want to lose my spot and risk not running the qualifying time."
Her strategy now is all about pacing.
"I know I have all of the tools I need to run my best race at sates, so I just need to not get too caught up in the energy and run smart," Laura says. "I need to be aware of my pacing, so I'll definitely try not to go out so fast, so that I can have a good kick and hopefully negative splits."
"What I tell all of them before the meets like this is that they should outperform their seed going into it," adds Coach Moul. "I think they really listened and did that. It was just a great day!"