It was the kind of ending that usually only happens in the movies, but this performance was about as real as it can get.
On an unusually hot day for May, the Lady Foxes softball team was even hotter than the temperature as they pulled off a dramatic come-from-behind win in their WPIAL Class 5A quarterfinal playoff game against Franklin Regional. Their 7-5 victory in the bottom of the seventh inning was a historic one – it represents the first time in the program's nearly 50-year history that a team has advanced to the semifinals and subsequently qualified for the state tournament.
The victory didn't come easily though. After Franklin Regional took a 2-0 lead in the first inning, the Foxes quickly answered with three runs of their own. Franklin Regional scored twice again, and the score stayed at 5-3 until the bottom of the seventh inning, when the Lady Foxes' resiliency and determination to win shined.
Their second surge started off when senior Neena Pietropaolo belted a solo homer and shaved the Franklin Regional lead to 5-4.
"I knew I had to do something big in that moment," Neena says. "All of my home runs are usually straight up, high, and to center field. Once I saw it go straight up and high, I immediately knew it was over the fence. With the girls who were behind me in the lineup, I knew something big was bound to happen. It was so exciting that I can't even explain it!"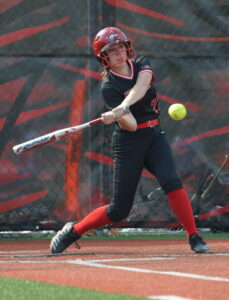 She was right. Junior catcher Amelia Herzer then singled, and sophomore Alina Stiger walked, leaving two players on base. Junior Brynn Palmer was up next at bat. She had a lot on her mind.
"We had one out, and two runners on base, and the only thing I remember was my first base coach saying, 'A little hit ties the game,'" says Brynn. "I knew I had to at least get on base or tie the game, and the next thing I knew was that the rest of the team was standing over home cheering me on, and we won. It was an amazing feeling that I will never forget."
Brynn says it really was what she considered a "little hit" because she didn't swing for the fence, nor did she underswing.
"I waited for the ball to come in, and when I felt good about swinging, I swung," says Brynn, who has hit two other home runs during the regular season, both at the Foxes' home field. "It just barely made it over the fence. To be honest, I didn't know all that was happening because my adrenaline was racing throughout my whole body. But coming to home plate and seeing my teammates crying and laughing and smiling was so emotional."
The Foxes' pitching was also key to the win.
"Junior Mackenzie Borkovich kept us in the game," says Chris Olbrich, who is having the season of his life in his first official year as head coach. "She was hot, although she would say she didn't have her best game."
With the win fresh on his mind, Coach Olbrich was naturally a little emotional. He says, "From their early-season wins until now, all 16 girls believed in themselves. I just love this team. They never hang their heads. Right now, they are just so happy."