The hardships of being displaced while the Foxes' new natatorium was under construction at the high school over the past two season taught the boys' and girls' swim teams that there really is no place like home.
Beyond the obvious benefits of having a brand new pristine eight-lane pool and a return to much more palatable practice hours, having a home base again has spurred an increase in the number of "family" members, and a degree of enthusiasm that was reticent in recent history.
Since their homecoming, both teams are going strong with 6-0 records at midseason. So far, five swimmers have already qualified for WPIALs, and with quite a few meets left in the season there are plenty of opportunities for others to join them.
While it might be true that part of their success has been driven by a refreshed, positive mindset, the fact is that second-year Foxes' coach Dan Taylor deserves much of the credit.
"I covet hard work and effort," says Coach Taylor, whose career highlights include leading 20 swimmers to top-16 national rankings and more than 50 swimmers to sectional, junior national, senior national, and Olympic trial qualifying times. "Over the past few seasons, I have implemented more practice sets that attempt to simulate race situations. These races are designed to help the swimmers learn what race pace means for different kinds of events."
"I don't know if I would describe Coach Taylor as tough, but he does expect you to be at a certain level, and coaches you to get there," says junior Brandon Brewster, whose events include the 100- and 200-meter freestyle, 100-meter backstroke, 400-meter free relay, and 200-meter free relay. "He motivates you to work your best."
The Girls' Team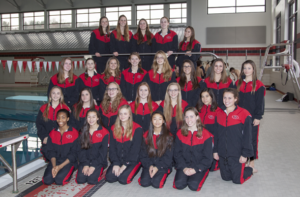 Coach Taylor's expectations for his swimmers are to give 100 percent at all times, which has helped four members of the girls' team to qualify for the WPIAL championship. They include seniors Maia Pauley in the 500-meter freestyle and Megan Wiese in the 200-meter freestyle. Junior Joslyn Filo had qualifying times in the 500-meter freestyle, 100-meter freestyle, 200-meter freestyle, 100-meter butterfly, and the 200-meter individual medley. Her sister Jaclyn, a freshman, will also advance to the WPIAL competition in the 100-meter butterfly, 100-meter breaststroke, and the 200-meter individual medley.
"The girls have always been pretty strong," says Maia, who was a WPIAL qualifier for the past three years and has had three different coaches during her four years with the program. "We were co-section champions last year, but we're even better this year. We want to continue the momentum. Since there are a lot of freshman, I try to motivate everyone and also help some of the new swimmers with their technique. Some of the underclassmen are nervous as first-time competitors, so I try to advise them about how to mentally prepare for each race."
Besides Maia, Megan, Joslyn, Molly, and Jaclyn, the girls' team starters also include mainstays Sada Lantigos and Camille Cagley, both seniors; juniors Morgann Green and Molly Wiese; sophomore Maria Luciana; and freshman Grace Gackenbach, a promising newcomer. Other first-year team members making an impact are sophomore Annika Urban and freshman Angelique Uku.
The Boys' Team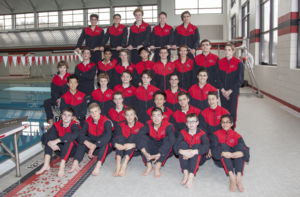 For the boys', senior Bohan Yao qualified for WPIALs in the 50-meter freestyle, 100-meter backstroke, 100-meter breaststroke, 100-meter fly, and 200-meter individual medley.
In addition to Bohan and Brewster, who was a qualifier in the 200-meter freestyle relay last season, starters for the boys' team are senior captains Alec Eckman and Nathan Wecht, and sophomores Jonah Cagley, Colin Hackwelder, and Nathaniel Roe. Sophomore Tristan McClelland and freshman Will Wang have impressed Coach Taylor in their first year with the team.
"The new pool definitely has attracted more freshmen and underclassmen to the teams, and they are really good," says Brandon. "It was hard to get people interested in the program when we were practicing at Shady Side [Academy Senior High School] during the very last practice slot from 8 p.m. to 9 p.m. It made for a really long day and we were tired a lot of the time."
Those new swimmers have both freshened the program and created depth that will come into play in the years ahead. It's a luxury that could be even further enhanced through Coach Taylor's affiliation with the Fox Chapel Killer Whales, a local youth swim program. Already, he has introduced many of his middle school-aged Killer Whales' swimmers to the high school program by using them as timers at home meets.
With the difficult days behind them and the stability of having a coach who is in it for the long haul, the outlook is bright for the swimming program. There's no doubt the place they want to enjoy that future is at home.