During the very first home meet at the new pool at Fox Chapel Area High School, on his very first dive list, and in his first-ever diving competition, freshman Nate Serkov made his mark in a new era of Foxes' aquatics – he was the first on his team to qualify for this year's WPIAL competition.
It was a remarkable performance by a novice, especially considering the WPIAL raised the qualifying level by 20 points this season.
Since Nate's early accomplishment, senior quad-sport athlete Dixon Veltri and sophomores Jonah Cagley and Magnus Loeffler also have qualified for the WPIAL championship. Sophomore Katie Eames is just a few points away from joining them.
But it is Nate who really took the veteran performers and their coach Vernon Yenick by surprise.
"Nate has extreme talent," says Coach Yenick. "I only met him for the first time at open call. He'd never competed before that first meet. He's really gifted and super strong. He was involved in gymnastics for four or five years beforehand, so that did help in playing a role in his transition to the pool. If he continues on this path, I can see him going to states at some point and even winning them."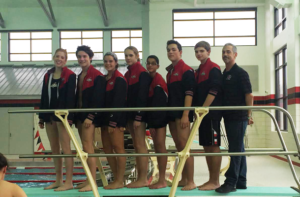 That's heavy praise for a coach who has tutored some of the best divers from the Fox Chapel Area, including Miranda Simon, now at George Washington University and performing well, and JB Kolod, an All-American in both high school and college who set four records at the University of Virginia, became one of its most prolific divers, and qualified for the Olympic trials. Even so, Coach Yenick says, "Having a great new pool, more interest in the program, and an amazing team doing incredible things … it's more than I could have ever possibly imagined or hoped for. This is going to be a special year."
In fact, it's a year he calls a "gift" due to the combination of returning talent, promising newcomers, and a topnotch pool. One returning athlete, Jonah, is someone Coach Yenick says has unlimited potential.
"Last season when Jonah was only a freshman, he qualified for the PIAA diving championships, finished second at the WPIAL finals, and placed second at the AAU diving nationals over the summer," says Coach Yenick, now in his eighth year heading the Fox Chapel Area diving team. "Jonah started as an ex-gymnast and very rapidly has risen to the level of a top competitor among all age groups. He's scoring about 300 points a meet, which is very unusual. I would consider him perhaps even better than JB was at the same age, and that's really saying something."
Magnus, he says, also is a great athlete who spends his time during the winter divided between diving and wrestling.
For the girls, Coach Yenick has relied heavily Dixon, who was a WPIAL qualifier for the past two years in diving and recently was named all-state in soccer.
"Dixon is amazing and has incredible natural ability," says her coach. "She's probably the best all-around athlete I have ever seen in my many years as a competitor and a coach. She's been a leader on the diving team for the past two years and motivates the others. They want to take her advice because it works."
Sophomore Ellie Mountz and freshmen Tyler Radigan, Ameya Velankar, and Evan Guiste round out the rest of the team.
"The team is shaping up to be one of the best in the area," comments an enthusiastic Coach Yenick. "We have the potential to have three-to-four divers as WPIAL finalists and have several divers that probably will make the state championship."
He adds, "We have it all. We have the strength and ability to be great performers, kids who are great people and great athletes, and a crazy beautiful pool that is by far the best in Western Pennsylvania. It's exciting just to walk into the complex."