Arnold Vento is a humble, mild-mannered kind of guy who doesn't usually like to call too much attention to himself – that is, unless he's on the basketball court where it's hard not to notice him.
There, his 6'4" frame and incredible wingspan have worked hand-in-hand to make him one of the Foxes' standout starters this season. His talents also have played a big role as the team secured a spot in the WPIAL playoffs for the seventh time in eight years.
While being in the playoffs isn't new to the junior guard (the team has qualified all three years he's played on varsity), he will assume a much larger role this time, and it's something he's prepared for since he was a child.
Growing Up With Ball in Hand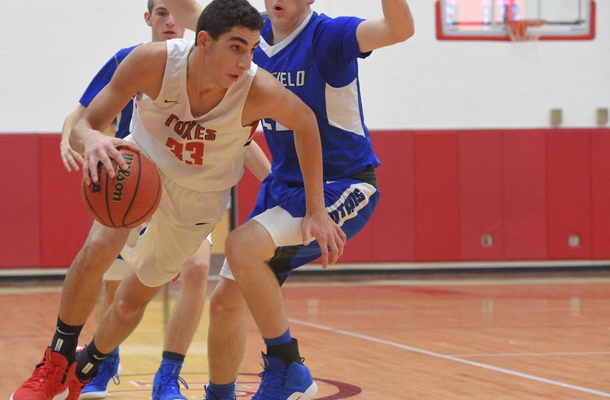 When Arnold was just in elementary school, he played for the Boys' and Girls' Club, on local travel teams, and even attended the high school's youth basketball clinics. It was there that he met former Foxes' standout player Brian Papich, a 1,000-point scorer and Pittsburgh Post-Gazette Fab Five pick who went on to play college ball at John Carroll University. Brian made a big impression on Arnold because of how much time he spent helping him and his ability to make learning fun.
"Ironically, Arnold and Brian are very similar players, which is a huge compliment," says Coach Zach Skrinjar, who coached both boys. "They both have unassuming demeanors on the court and are pretty good at analyzing the game. They both also have incredibly long arms, which they use to their advantage. And both are very competitive, especially when challenged."
Nearly 10 years after Arnold met Brian, his game has reached new levels this season. He's quicker, he's gained confidence, he knows what he can achieve, and he is aware of his potential. And, just as others did for him, Arnold has made an intentional effort to help the underclassmen that will eventually take over the team.
It's apparent that Arnold is contributing to the team in every way possible. As far as numbers, Arnold has been the been the team's high scorer in seven games this season, earned a career high of 26 points in one game, and leads the team in three-pointers at 36, so far. The captain also averages 15.3 points a game and has contributed at least 20 points in four games. (statistics as of 2/1/19)
"This year, Arnold has taken on a much greater role on both sides of the ball," says Coach Zach Skrinjar. "He is getting to the hoop and finishing a lot more, and is growing into the complete player that I knew he could be."
He's also proven to be a valuable weapon on defense. Arnold routinely guards opponents' better players and his remarkably wide wingspan gives him a great advantage when rebounding and disrupting other teams' shots.
A Head Game
There are athletes who play with a lot of emotion, and there are others who are naturally instinctive with a ball. Arnold is a level-headed thinker, a scholar whose approach to games includes intense scrutiny of game film. While there is no film of the Foxes' golf matches, as a member of that team Arnold takes the same introspective approach.
"I like golf because of the concentration aspect," Arnold says of the game. "You have to be focused on every shot because every shot matters."
The National Honor Society member says one of the biggest things he's learned from analyzing both games is that it's the small mistakes that can make a big difference toward the outcome.
"It's the simple things, like in basketball when a cross court pass that gets picked off, or something else that happens very quickly that can make or break a game when they're all added up," Arnold says.
One recent basketball game that Arnold found little to criticize was against non-section foe Penn Hills that ended with a one-point loss after double overtime. Arnold scored his career high number of points that night, but his individual achievement was somewhat soured by the loss.
"While it's always bad when the team loses, we learned a lot," Arnold says. "We played a complete game and followed our plan all the way to the end. Our goal was to prevent them from feeding at the post, because we knew they were very good there, and force them to shoot from beyond the paint where they weren't as accurate. We did that, but unfortunately, in the last second they hit a three-pointer.
"That was about as close to a playoff game as you can get and both teams got better. We played better as a team in that game and if we can continue to do that, I think we'll do well in the playoffs."
Coming Up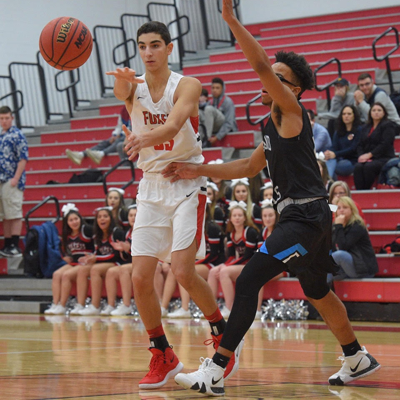 With the playoffs ahead, Arnold says, "I just need to keep working and playing harder. I want to keep getting better every day."
There have been a lot of high points this season, both for him and the team, and he believes that on those days when the team is connecting that they can be successful against a lot of teams in WPIAL 6A.
"We knew coming into the season that we'd be young, but everyone has stepped up and it's ended up working out," Arnold says.
Regardless of what happens during the remainder of the season, Arnold says, "I think years from now when I look back at this stage of my life, the most important things I'll remember are that sports taught me a lot about working with other people and how to adapt when things don't go your way."