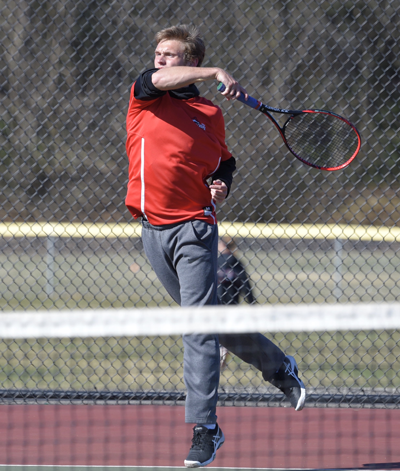 Robby Shymansky is a five-star college tennis recruit and is classified among the top 50 boys singles players in the country. He proved, once again, that there's credence in those rankings by winning a back-to-back WPIAL singles title on Tuesday, April 16. Just a week beforehand, he earned his fourth WPIAL Class AAA Section 3 championship.
Next, Robby is off to the state championship in Hershey, Pennsylvania, for the fourth time. While he certainly has had a storied high school career, winning silver and bronze medals at states as a freshman and junior, it's the PIAA gold medal that has been difficult for him to pin down. He's hoping his latest achievements and hard work in the offseason will trigger his best performance yet.
"Last year it felt really good to win (WPIALs), and this year also felt good," he says following his 6-0, 6-1 victory over David Missry of Allderdice. "There have been a lot of good players from Western Pennsylvania throughout the years, but not all of them have been able to win this twice, so it was cool to win again."
He had actually been looking forward to a rematch with Peters Township's junior Connor Bruce, but Connor injured his foot and has been unable to play this season. The WPIAL gold medal has seesawed between them over past two years. "It was a little different not playing Connor, but it was still tough competition," says Robby, a Yale recruit who gave the university a verbal commitment in his junior year.
Although Bruce won't be there, Robby will still have his work cut out for him when he gets to the state tournament. The senior has been considered the top-ranked player in his age group throughout high school, but the PIAA singles title has been elusive.
After last year's third place finish, Robby spent the year on the tournament circuit. He won the United States Tennis Association Middle States Closed Championship last summer and had some good wins at national clay and hard court competitions.
"Over the last year, I've continued to develop weapons, and my game is a lot bigger overall," says the scholar-athlete. "I like to dictate points and be more aggressive than I have been in the past. I think my serve has gotten better. I've been using my forehand more, and I've spent time trying to get stronger, so overall my game is stronger and more aggressive."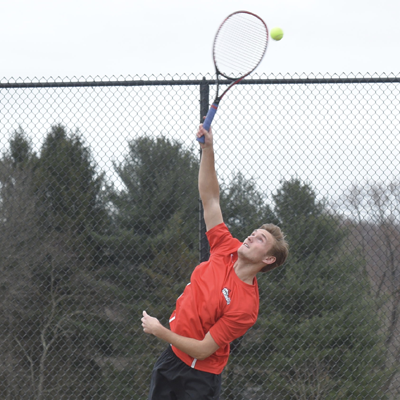 Robby doesn't back down from hard work or taking risks, something that he also admires in his favorite professional athlete, hockey star Sidney Crosby, even though Sid doesn't play tennis.
"He is my inspiration as an athlete just because of his approach to the sport and the way he conducts himself. He has a great work ethic and competitiveness, and loves what he does. Those are attributes that I would love to have as a tennis player."
Robby already has demonstrated those traits, yet he still considers himself a work in progress, especially when it comes to competing in Hershey.
"So far, I think I've been playing pretty well," he self-assesses. "I just have to continue being aggressive and directing points because, especially at the indoor courts at states, which are really fast, it's important to be in control of the score. I've just tried to continue to build my game so that I can be more aggressive when I have to be."
In the meantime, Robby is focused on leading his undefeated squad to their fourth WPIAL team championship in as many years, something that only one other school in the WPIAL has accomplished.
"Robby is just a great competitor and the best boys' singles player I've ever coached," adds Fox Chapel Area Coach Alex Slezak. "He just wants to win. He's not in it for the media attention or praise; he plays because of his love of the game."