Carissa Shepard is a much different person than she was a year ago. The sophomore, who played singles and doubles tennis for the Lady Foxes during the 2018 season, worked hard all summer with a singular focus to take her game to a higher level. And it appears she's done just that.
Only a week before the high school preseason began, Carissa, 15, won the 16-year-old age singles' division at the prestigious United States Tennis Association (USTA)-sanctioned Fox Chapel Junior Open. Last year, she came into the event rather unknown and unranked. This year, she was the top-ranked player in her age group.
To make her week even better, Carissa and Foxes' freshman Catherine Petrovich won the tournament's 18s doubles bracket.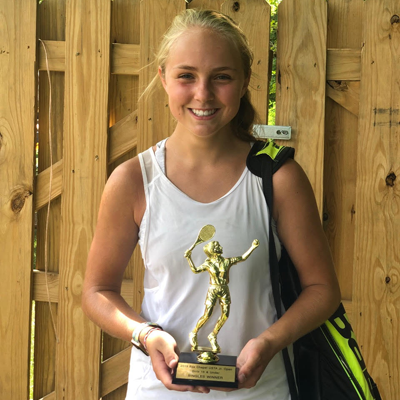 "I felt like (winning singles) was a possibility, but I've played in the tournament before and it didn't go so well," Carissa says. "I've played Rachel (Ekanem, the runner-up) before and she beat me pretty good in the past. So, I was a little iffy at first, but I gained more confidence once I started to win games. I just kept thinking that I put in so much time and effort this past year that I deserved to win."
Carissa's high school coach, Alex Slezak, says, "Carissa is an aggressive baseliner who continues to add offensive and defensive skills to her game. Her strengths on the court lie in her work ethic, serve, and forehand. She still has a great deal of growth left in her game, but Carissa has a lot of potential to be an even greater player."
The honors student agrees that her serve and ground shots are her strong points.
"I think that's where I've matured the most over last year," Carissa says. "Now I want to build up more spin and power. I've also been working a lot on my volleys in the off season and over the summer, but it takes time. I still need to get the technical part refined by doing a lot more reps."
Despite winning her most recent trophy and playing in many tournaments over the summer, Carissa knows there will be fierce competition to grab the Foxes' talent-laden top seeds in both the singles and doubles lineup.
Besides Carissa, former top seed Charlotte James has returned in her senior year after taking off last year to play in the tournament circuit. Carissa was still in middle school when Charlotte, a PIAA doubles' champion, last played, and Carissa hit some balls with her for the first time the week before preseason.