Some occurrences are so surreal that it's mind-boggling to believe they are really true. Such was the case at a chance meeting at a local gym in Encinitas, California, more than 2,000 miles away from the Fox Chapel area. There, amid rigorous morning workouts, Nigel Paxton and Andrew Gottlieb had a happenstance encounter and discovered they had much more in common than belonging to the same fitness center.
Startling Discoveries
Nigel, 54, noticed Andrew, 30, was wearing an Allegheny College hoodie and approached him because, as Nigel says, "You really don't' see many inscriptions like that around here."
Once Andrew confirmed the location was near Pittsburgh, the two discussed their workout goals. It was then that Andrew told Nigel, "I'm trying to get back into shape to play soccer again because I want to get into a league and play."
Coincidentally, Nigel said he played in a league and then the conversation turned to their prior experiences with the sport. They discovered they had both played for four years in high school and then two years in college. Nigel asked where in Pittsburgh Andrew grew up, and that's when the conversation got even stranger.
Imagine their surprise when they found out that both of them were from O'Hara Township and had played soccer for Fox Chapel Area High School! Not only that, they grew up in the same neighborhood, one street apart. Nigel recalls, "It was just so bizarre!"
Foxes' Soccer a Generation Apart
Nigel, who is a 1983 grad and 22 years older than Andrew, was a star player for the Foxes from 1978 to 1982 under the leadership of legendary Fox Chapel Area coach Jim Perry. Andrew, a 2007 alum, played his first three years when Jim Perry assisted his son Mark, who had taken over as head coach. In Andrew's senior year, Erik Ingram was hired and remains the head coach today, 13 years later. Both players were members of teams that were section champs, advanced to the WPIAL playoffs, and made it to the WPIAL finals. Both also played outside midfield, describe themselves as late bloomers, and were scholar-athletes.
Another lesson they share from playing for the Foxes, and from the district as a whole, was an expectation to always try your best to achieve quality work, whether it's on the field, in the classroom, or in daily life.
"There was a standard to strive for excellence and not settle for anything else," says Andrew. "I think that also creates a good benchmark for later on in life when you're exploring career opportunities and possibilities."
While there are many parallels between Andrew and Nigel, Jim Perry says their approach to soccer was not the same.
"Andrew and Nigel were different players," recalls Jim Perry, who is nearing 50 years of coaching soccer. "Andrew was a feisty kid – very aggressive – whose heart (for playing soccer) was bigger than his body. Nigel was a very methodical player. Both of them were very successful in their own right."
As Fate Would Have It
Now, after all these years, the two former Foxes are finally getting a chance to play together on the same team. Nigel, who has lived in the San Diego area for about 30 years, plays every weekend in a competitive men's league. After he and Andrew shared their experiences, Nigel invited the younger player to join his team.
"I really missed not playing," says Andrew, who moved to Encinitas four years ago to pursue entrepreneurial opportunities. "I've always liked the camaraderie, competition, the physical nature of the game, and as an outside mid, I love the feeling of running down the field and out-sprinting everyone."
Andrew says even though Nigel is probably the oldest player on the team, he is, by far, the best player on the field, and adds, "His first touch still looks like a DI college athlete's, and he's very intelligent. He has a high soccer IQ and he's a vocal, supportive leader on the field."
Nigel replies, "Andrew is super energetic, makes sound decisions, and gives 100 percent effort, and I know that comes directly from his high school training.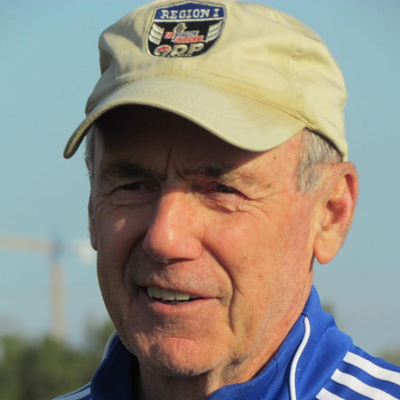 "For myself, I still carry Jim Perry's lessons in my mind. He was the best coach I ever had. He was very strict, but the strategies he taught us were above anything else I ever experienced, and that includes when I played in college and in semi-pro leagues."
"When I look back, I feel so blessed and lucky," adds Jim, who is nearing 50 years of coaching, 19 of them as the Foxes' head coach. "Soccer enriched my life tremendously."
It appears as though the game has also made a lasting impact on his players as well.
A side note of interest: Jim Perry's coaching career at Fox Chapel Area spanned from 1971 to 1991 to include both Nigel and Andrew's years different generations. Coach Perry has achieved legendary status in the soccer history books, and was instrumental in the founding of the Fox Chapel Area Youth Soccer Program in the early 1970s. He has been inducted into the Fox Chapel Area Schools Sports Hall of Fame, the Alle-Kiski Hall of Fame, the Pennsylvania Soccer Coaches Hall of Fame, the Western Pennsylvania Chapter of Pennsylvania Sports Hall of Fame, and the Slippery Rock University Soccer "Ring of Honor." As head coach at Fox Chapel Area, he won nine section titles, a WPIAL championship, and, in his final year, won the PIAA Class AAA championship. When his son, Mark, took over the Foxes' program, Jim served as an assistant for a few years and still coaches with his son at the club soccer level. He taught physical education and health at the high school for 36 years.