Distance runner Shane Funk is one of those smart people who learned how to solve a Rubik's Cube before he got to high school. He never gave up until he figured it out and then memorized the steps so he could repeat the feat on demand.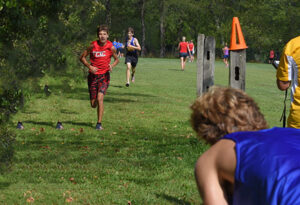 It's that same persistence and ability to overcome challenges that has enabled the senior to become one of the Foxes best cross country and indoor and outdoor track runners. Last season at the WPIAL cross country championships, Shane finished second on the team behind 2020 grad Christian Fitch, one of the school's finest runners. Christian has accepted a Temple University scholarship to run on their men's team.
In addition to Shane's success in cross country, his other signature events are the one- and two-mile races in indoor and outdoor track.
While he likes all three seasons of running, cross country is probably his favorite. He says, "I do a lot better at long distances and I just really like doing the different courses."
"Shane is a very good racer and doesn't seem to get rattled in a race," says his coach Tom Moul. "This is a particularly important characteristic, as many runners buckle under pressure, despite the fact that they are trained well enough to perform better. In addition, Shane gets stronger as the race goes on. I've been trying to get him to go out faster at the beginning, but he seems to perform well enough at the start, then consistently passes people as the race proceeds. In addition, he's a tough kid, so he trains well. This is obviously the most important factor in distance racing."
Challenges Never Stopped Shane
Every time Shane crosses the finish line, he accomplishes much more than completing a race – he proves that, no matter what the challenge, there is a way to prevail. His own challenge began when he was 10-years-old and went to the doctor for what he and his parents thought was an injured knee. Instead, they were shocked to learn he was diagnosed with Klippel-Feil syndrome, a disorder where there is an abnormal fusion of several bones in the cervical spine.
Due to the harsh contact and physicality of the sports he was involved with at the time – football and wrestling – he had to quit them and then discovered running. It became a new passion and he dedicated himself to getting better each year, despite at times having to run with a lot of pain.
"The pain was pretty bad when I was in middle school and then as a freshman and sophomore, but last year and this year have been ok because I've found that massage helps," says Shane, a member of the Fox Chapel Area High School National Honor Society.
He adds, "I definitely think that this year my speed, pace, and endurance have improved as I've increased my mileage."
He is hoping the improvement will lead to an opportunity to run when he goes to college in the fall of 2021. He already has talked with several coaches and has visited a few campuses.
"Shane has worked hard and turned himself into one of our top runners," says Coach Moul. "Besides being tough, he's a great teammate, hard worker, and very coachable. He understands the sport very well, so when I give the workout details, he understands exactly what to do and carries them out perfectly. His ability to train like this has allowed him to be as successful as he's been. It's somewhat rare to be a four-year varsity runner, but he is. I'm counting on him to be one of our top guys this season."
Shane is confident that the boys cross country team will be pretty good this year. "We have a strong group coming back with three seniors and three juniors. There is only one spot open."
For others who may be facing challenges, Shane advises that there are several crucial actions to take. "Never give up and believe in yourself. If you are feeling down, talk to your family or people who can help you. My teammates have really helped me a lot and helped me stay motivated."