The Foxes' strength and conditioning program is more robust than ever and continuing the upward trend in participation levels that are even higher than in year's past. With indoor training facilities closed due to the unprecedented circumstances caused by COVID-19, many athletes were eager to begin workouts in any way possible. Fox Chapel Area athletes are proving they have more resolve than ever about getting into top shape.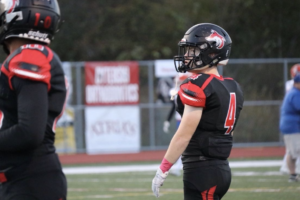 During the school shutdown, strength and conditioning head coach Brandon Peifer created a computerized Teambuilder platform to provide athletes with instruction and training plans that could be used to work out at home. The sessions were custom-tailored to meet each athlete's sport and individual goals.
While the return to onsite training has been welcomed by everyone involved, things are different now.
"They are doing a lot of the same stuff, just outdoors," says Athletic Director Michael O'Brien. "The kids have been exceptionally compliant and doing everything that's asked of them. They want to be there, so they are following the rules, listening, and doing their best."
Senior quarterback Justin Rice says getting back to training with his team, as opposed to working out alone in his basement, has brought out the best in him. He says, "When you see someone else working hard, and for me, I always see that, it makes me want to one-up them. So being back with the team is just a big motivation factor for me and everyone else."
New World, New Way of Doing Things 
When athletes arrive at the high school to train, their day begins by filling out a COVID questionnaire and having their temperatures taken by their coach. While training, athletes utilize the many hand sanitizing stations, are required to bring their own water bottles, and wear masks unless actively involved in training or practice. Social distancing is practiced to the maximum extent. To ensure all protocols are followed, Mr. O'Brien has posted reminder signs all around the training facility and Coach Peifer has moved the majority of the weight room to the turf practice field.
"I go in about an hour early each day to bring all of the weights, bars, bands, and medicine balls outside and then take everything back inside once we are done," says Coach Peifer. "We are bringing out everything except the racks and benches."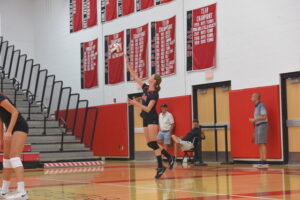 Katie Heidenreich, who plays on the girls volleyball team says, "We are following the COVID-19 regulations to the best of our ability in order to keep things safe. We are grateful for the school's attempts to continue strength training in a safe way in spite of the pandemic. It is essential for high school athletes to continue this training in order to stay healthy, fit, and connected with teammates."
Katie, who plays setter and right side hitter, says she has experienced great rewards from doing the training.
"Working with the Fox Chapel trainers has helped me to become stronger, faster, and more agile," says the senior player. "Working out as a team promotes motivation to keep coming and giving 100% effort while we are there. For my purposes, the training will help me to jump higher, sprint to balls faster, and hit and serve with more strength and precision."
She continues, "As a setter, agility training allows me to quickly move into place in order to set a good ball. Increased arm strength would allow me to set the ball anywhere on the court and hit the ball with a greater force. Increased leg strength would improve my jumping ability for blocking."
Justin has utilized the program all four years of high school, in part because he knows he is not one of the of the bigger players on the team. He wants to do everything he can to gain advantages on the field. He has put on 15 pounds of good weight since last year, mainly due to strength and conditioning and a healthy diet.
"Overall in the past year I have gotten a lot stronger in my bench and squats, and my deadlift did go up significantly from last year," says Justin. "Being one of the stronger guys on the field is always a plus. My conditioning also is a lot better than it has been in the past, which will help me to feel faster and have more endurance during games."
With coaches, trainers, and student-athletes all doing their part to stay healthy and safe, everyone now has their eye on the prize – kicking off the 2020 fall season.