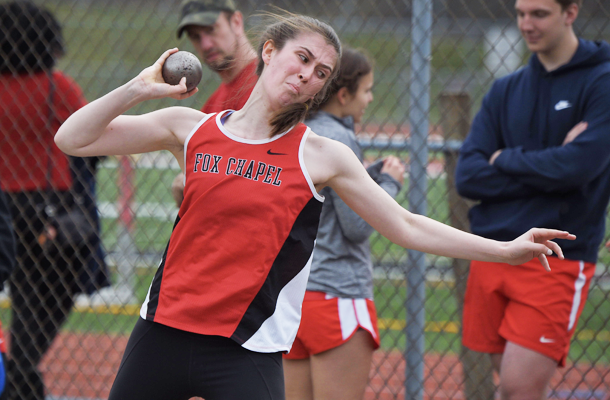 Many of the seniors on the Foxes' track and field team have broken school records, and some have advanced to the state level where only the best of the best compete. Yet, if you ask them to reflect over their years with the team, they agree that what they will miss most are the deep friendships they've forged.
"It's a little unusual to have such a great amount of camaraderie in a sport such as track and field because the kids participate in different events and aren't even together for a large part of practices and meets," says Head Coach Tom Moul. "But this is a special group."
"I can't imagine spending another four years with anyone other than this group of kids and coaches," says captain Sarena Seeger. "I remember when I was a freshman and came out for the team. That was for cross country, and I couldn't go very far at all without wanting to stop and walk, but my teammates, they helped me along and have shaped me into who I am today."
After that, she started running in indoor and outdoor track as well, as do many others.
Of this group, Coach Moul says, "Overall, this is one of the best senior classes I've had in terms of work ethic, camaraderie, and leadership. They are also accomplished in many different areas other than athletics, and the majority of them are high achievers in the classroom as well."
Korey Simmons, a team captain and The College of Wooster recruit, will start to wind down his senior year as a participant at the upcoming WPIAL Class AAA championships. He qualified as part of the 4 x 100 relay team and, individually, in the 110 and 300 hurdles. "Of all the years I've been on the team, I've enjoyed my senior year so much, and it's really been fun. There's nothing that can compare to the feeling you get on meet day! And, it's great because everyone is really motivated to win."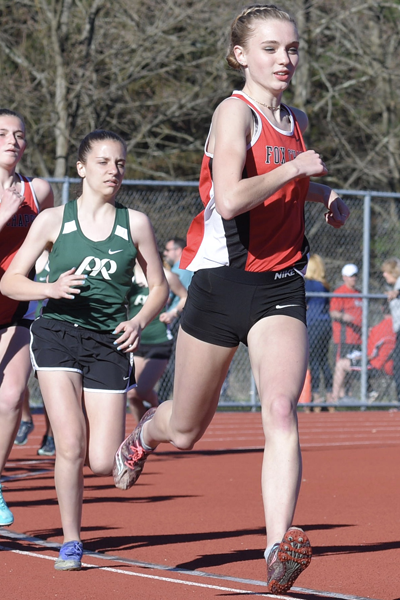 In all, there are 15 seniors on the team and 10 of them have been with the squad since they were freshmen. Coach Moul credits them for the influence they have had on the program and the example they have set for their younger teammates.
"Avery Bursick has a tremendous will to win, and Ian Brown is a very focused, talented athlete who loves the sport," says Coach Moul. "Steven Cano started throwing just last year, but we are very happy with his progress. Jonah Green is another of our hard workers and he is also a very smart runner. Also, Michael Uhl works very hard in the pole vault, which is a very difficult event, and Luis Fernandez just came out for the team this year and is a great addition."
Greg Overbeck had his best season in track this year and says going to WPIALs for the second consecutive year with the 4 x 800 relay team is huge.
"It just shows how much we have improved over last year," says the senior, who also has been a four-year varsity runner in cross country. "Going to WPIALs gives us a sense of accomplishment and it brings out a whole new energy level in me and my teammates."
Coach Moul also praises girls' team sprinter Kate Carenvale for the achievements she has made in only two years on the team. She currently holds four indoor track records and three in outdoor track. Additionally, there are other seniors whom the coach commends.
"Hannah Flanders came back from a serious injury this season and her determination has made her a great competitor," he says. "And Bella Zottola, a pole-vaulter, deserves credit for her hard work in trying to master a very difficult field event."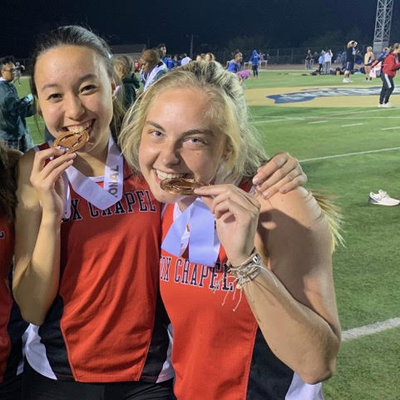 But it is Annika Urban and Sarena Seeger, who were part of the school's first state champion cross country team and participated in track the other two season, whom the coach credits for giving some "oomph" to the distance running and relay events at a time when the girls' team had a few lean years.
"Together, these girls have broken a number of records and raised the standard for performance since they were freshmen," adds Coach Moul. "They set a new tone, gave us a fresh start, and have always put the good of the team ahead of themselves."
Annika, who qualified for WPIALs in the 1,600 and 3,200, this year and was the only runner on either team to advance to states when she was a freshman, has different emotions this time around.
"My freshman year, I remember it was a really hot day at WPIALs, and I was just amazed watching how fast people were running and how incredibly good they were," says Annika. "That year, I did well at WPIALs, and qualified for states by just barely passing the fourth-place runner. I've been stressed for races in the past, but not so much this time. I'm really looking forward to just appreciating the experience and getting immersed in the whole meet."
"All of the seniors have really been great role models for the underclassmen," says Coach Moul. "What they've passed down is a sense of having fun, but working hard when they need to. Other kids have seen that and I think it will remain a big influence in the future. "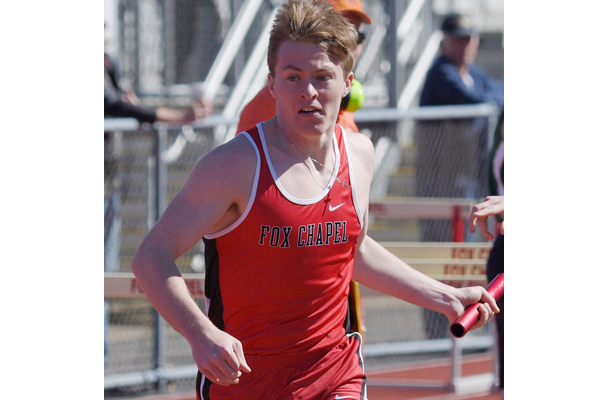 The class also boasts the largest number of college recruits in Coach Moul's 12 years leading the team. Kate Carnevale will join the Davidson University team, Greg Overbeck was recruited by Seton Hill University, Korey Simmons will run and play football for The College of Wooster, Annika Urban will run distance for Emory University, and Eras Yager will throw and play volleyball for Kenyon College
But before they leave the area to pursue the next chapter in their lives, many of the seniors will get a final taste of the WPIAL Class AAA Track and Field Championships. The senior qualifiers are:
Avery Bursick – 4 X 800 relay
Ian Brown – 1,600
Kate Carnevale – 100- and 200-meter dash and 4 x 400 relay
Luis Fernandez ­– 4 x 100
Sarena Seeger – 1,600, 4 x 400 and 4 x 800 relays
Korey Simmons- 110 and 300 hurdles, 4 x 400
Annika Urban – 1,600, 3,200
Eras Yager – shotput
Sarena's summation of her high school experience reflects that of her peers on the team.

"I just love high school running," she says. "It's been such a huge part of my life for so many years. My teammates are such good friends and we all cheer each other on. There's no jealousy. I will really miss everyone."