Shane Susnak's excitement for every Foxes' football game never waivers, no matter the score or circumstances. Fans have even noticed that the varsity quarterback is one of the first on the field or the sidelines to give a teammate a pat on the back or provide words of encouragement. His upbeat leadership style mirrors that of the seniors, who, after their October 27 game against Shaler Area High School, will pass down guardianship of the team.
The upperclassmen's words echo in Shane's mind every day. "They tell us to enjoy every minute of every game and have fun because time goes quickly," he says.
Still, Shane's optimistic demeanor isn't something that's been solely shaped by his elder teammates; it's an inherent characteristic that makes Shane, Shane.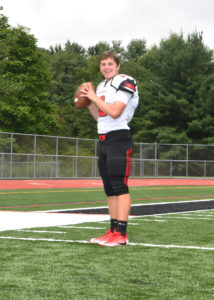 "Shane is very up-tempo and a real heady kid," observes Coach Tom Loughran of the junior. "He's very mature and a coachable young man. One of the biggest things about him is that when you tell him something, he gets it, and he gets it right the first time. He has good decision-making skills, properly reads the defense, and is a leader who has taken care of the offense and led the team in a positive direction."
But Shane's focus and managerial abilities aren't surprising to those who know him. After all, he's pretty brilliant in the classroom and a shining example of the term "student athlete." He's had straight As since elementary school, takes all Advanced Placement (AP) courses in high school, and is particularly strong in science and math.
"It's definitely tough to find a good balance between academics and sports," says the tri-sport athlete who also plays basketball and baseball. "It's all about time management. Besides, if I wasn't playing sports every season and studying, I'd be doing something else that might not be as productive."
Born to be a Quarterback
There's no doubt that Shane was destined to be a quarterback. After all, he claimed that position as a five-year-old playing flag football and has stuck with it ever since. After playing middle school football and then two years on the high school's junior varsity squad, moving up the ladder was something Shane had looked forward to for a long time.
His intelligence has proved to be a huge asset. "I take pride in my preparation, knowledge of the playbook, decision-making skills, and ability to read defenses," he says. "I think it's my responsibility as a quarterback to understand all of the plays, because if I don't know them, then how can I help my teammates with their jobs on the field?"
An introspective player who is his own worst critic, Shane takes losses hard. Before moving on to focus on the next game, he spends a great deal of time analyzing game film, not only with the coaches and his teammates, but also on his own time. Each week, he dissects each play to figure out what else he could have done that would have been more successful.
With knowledge he's gained, Shane has shown greater confidence each week, been more poised in the pocket, and become more comfortable running when feeling pressure. He demonstrated that progress last week on the second play of the first drive against Armstrong when he completed a 13-yard pass to senior Graham Childs and surpassed the 1,000-yard mark. For the season, he is 94 of 161 (58.4 %) for 1,128 yards, and has thrown eight touchdown passes and only six interceptions, and is a player who is always sure to credit his teammates for their part in his success.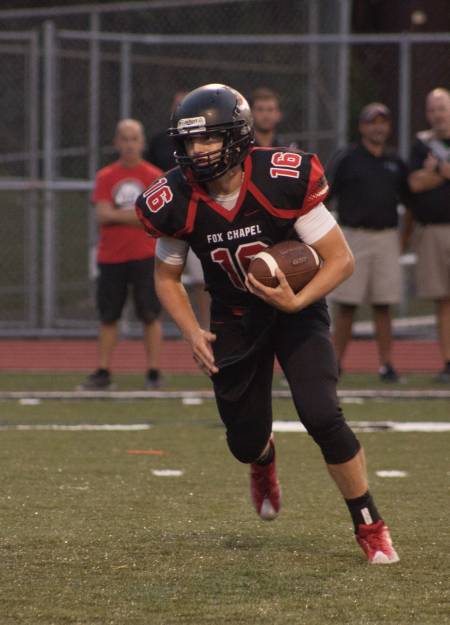 Making Memories 
"I think the best thing about playing football is the ability to come together as a team," says Shane. "There's no better feeling than everyone working together, scoring, and having fun."
He's speaking in particular about the Foxes' game against Hampton High School in week five when they defeated their neighboring team 27-6.
"Everything just clicked at that game," he says enthusiastically. "The offensive line did a great job of blocking, the whole defense was fantastic, and we did it during the pouring rain. It was just amazing and gave us our first taste of winning this year."
Shane and his teammates hope to recreate similar emotions when they play their final game of the season and their last as a group. Afterward, Shane still has many goals he wants to achieve before his senior year of football, including improving his ability to play under duress and maneuvering better in and around the pocket.
"I'll be spending a lot of time during the summer in the weight room to get bigger and stronger," adds Shane.
Now that he has such a good grasp and understanding of his offense, it will be exciting to watch Shane next season when there will be a good number of returning lettermen anxious to help their quarterback lead the team.