Sarena Seeger couldn't have timed her kick more perfectly than she did at the recent Tristate Track Coaches Association Invitational when she won the girls' WPIAL AAA division race.
As she tells it, winning the gold medal all came down to a racing strategy that worked well for her that day. The senior runner explains, "Hannah (Lindgren of North Allegheny) was right in front of me, but I knew I still had enough kick to pull ahead. It was a hard course with a pretty hard hill, but I just pushed and pushed to get to the top knowing it would be better once I reached it. But I sure didn't like that hill!"
Grace Sisson, a junior, placed fifth among the 220 female runners, and the girls' team, the reinging state champs, earned second place. Thirty WPIAL Class AAA teams participated in the event.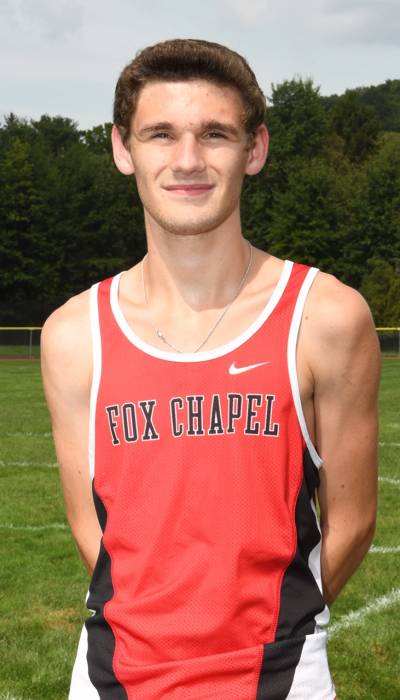 Junior Christian Fitch, a top-10 finisher at last year's WPIAL championships who advanced to the state finals the past two years, finished third amongst 220 boys.
The team is now preparing for the WPIAL championships that will be held October 25, also at California University of Pennsylvania. Previously, the event had been located at Cooper's Lake in Slippery Rock, Pennsylvania. According to Coach Tom Moul and the runners, the new college course is much more difficult with its demanding hills and valleys, and is a novel experience for most of the Foxes' runners.
"When the current seniors were freshmen, I took some of them to Cal U. to get them experience," says Coach Tom Moul, "but the majority of the kids had not run it before the TSTCA meet. It's a lot harder than Cooper's Lake because of the steep downhill followed by probably the most difficult hill the kids have run all season. It requires a lot of strength to do well there."
But the coach didn't bill the event as an end-all meet.
"We talked all week about our goal being the next race (WPIALs), and the one after that (PIAAs)," he says. "We're just hoping the girls do as good of a job as they can."
The top three teams from the WPIAL championships will advance to the PIAA meet, as will the top 15 non-team runners. Last year, the girls' team placed second at WPIALs, but went on to win the PIAA girls cross country title for the first time in FoxChapel Area High School history.