Coach Tom Moul will be the first to tell you that some of his cross country runners have had a difficult year. Some were sidelined by illness, while others had minor injuries that slowed them down. But when it came to the 2019 WPIAL Class AAA championships held October 24, his top athletes pulled through with the performances they needed to advance to the PIAA championships. At the WPIAL finals held at California University of Pennsylvania, Christian Fitch placed fourth with a time of 16:16; Grace Sisson came in fifth with a time of 19:53 and was fifth, and Brooke Krally ran a 20:28 and finished 15th.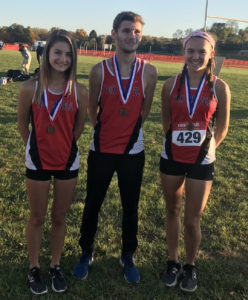 This won't be the trio's first trip to the cross country state championship course in Hershey, although as seniors with three previous appearances, it will be their last. All three athletes advanced to the PIAAs as freshmen. Christian went as an individual runner each year, but this will be the first time the girls will run without their teammates. The girls team qualified for states the past three years and, in 2017, they won the PIAA Girls' Cross Country Team Championship for the first time in Fox Chapel Area history.
"I always have pretty high expectations for them, and they all did pretty much what I expected at WPIALs," says Coach Tom Moul. "Christian and Grace medaled last year at WPIALs, but I was really happy for Brooke because she hadn't done that since she was a freshman. It was a goal of hers to medal this year."
However, the week before at the annual Pennsylvania Foundation Cross Country Invitational, which is held on the same course as WPIALs, Christian did not perform as well as he would have liked.
"I wasn't feeling well and just couldn't find my legs that day, but I felt much better at WPIALs. This time, I think I performed well. It was definitely an improvement over last week's race, and it has been nice to see good improvement and feel close to 100%."
Four-Year Stars
Grace says she got out of the start at WPIALs the way she wanted to and believes she worked the hills of that course better than she had in the past. "I think I can improve on a few things for states. I'd like to be further up with the top girls, and my goal is to get out fast again. I also want to focus on getting up those hills faster and using the downhills better. I'm looking forward to being back out there next weekend, when the field will be even more competitive.  It definitely will be different, though, and a little weird going to states without my team this year, because we always had such a big group, but I'm really excited and glad to be going with Brooke."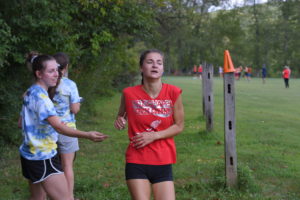 While Brooke had a slow start to the season after enduring a non-sports-related surgery, her performance this season has actually been better than ever. She says, "I think having to lower my mileage actually benefited me and worked in my favor in the long run. Going into states, I think the most important thing is the mental game, because it's very different in cross country than it is inother sports. I really don't get too nervous before races, but just try to stay in the zone, focus, and trust in my training and coaches.
The Course
There's no argument that the 5K championship course is grueling. But at least this year it won't stink – literally.
Before now, there had been a sewage plant located right near the course, and the runners endured a foul smell as they competed. This year, the course has been tweaked ever-so-slightly to accommodate for the change.
The first 200 meters of the course is an open field, followed by a tight turn, so runners have to make sure they get out fast, or they will get caught up in the herd.
"After that, you can't really let up," Christian explains. "The first three-quarters of a mile is flat and/or downhill before you hit the first steep hill. The last mile is a flat loop that precedes the final hill, and then it's 200 meters until the finish. It's just a tough course because of the layout, and you really have to stay focused and go with the pack. Tactically, you have to be really tough and try to make a move the last mile because it's flat."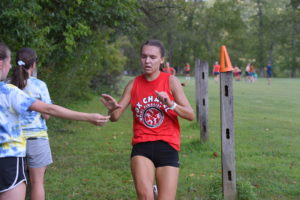 Brooke adds, "I always get out of starts super-fast because I'm the kind of runner who can't catch up very well if I don't. I've had issues with the big hill in Hershey in the past. It's a killer, and it can make or break you. But this time there is no next year or next time to do better. I plan on putting it all out there."
Bittersweet Times
For Coach Moul, this trip to Hershey is bittersweet. These three runners have been so important in building a strong foundation for a program that has enjoyed much success over the past few years.
"In a way, it's gotten to be routine having these three at states," says Coach Moul. "It will be quite a strange feeling not to have them next year. All three are just outstanding people. Obviously, they are elite athletes, each having won multiple state medals, but more importantly, they are hard workers and nice, compassionate kids. It's fun and inspiring to be around people like that. I'll savor this trip for sure, but hopefully there will be a couple more trips for them to state championship meets before the end of the school year."
Brooke echoes his sentiments. "Christian and I have run together since middle school when we were co-captains, and we are like a brother and sister. Grace has been an amazing training partner, and we're good friends. All of us, along with Sarena (Seeger) and Annika (Urban), who graduated last year, are family. It will be hard to replace that bond in college."