Coach Alex Slezak knew his girls tennis team had a chance to win the PIAA Class AAA championship, and they were ready for a fight to grab the title. After all, it was something the coach and his past and present players had dreamed about over the 11 years he's been with the Foxes. But when it actually happened, Coach Slezak was pretty much at a loss for words, other than to say, "WOW!"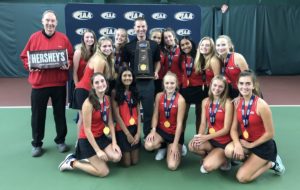 It was the first time since 2004 that the Lady Foxes won the state team tennis title. To get there, they defeated Downingtown High School West, 3-2, on October 26, thanks to the strength of their singles line-up which had anchored the team all season.
Senior Charlotte James, the 2019 WPIAL Class AAA singles champion, overpowered Downingtown's Tanya Pant, 6-2, 6-0, while sophomore Carissa Shepard dropped her first set to Sophia Koons, 2-6, but then staged a strong come-from-behind performance to win the last two sets, 6-2, 6-3.
"I was very nervous. I was overthinking things, and I was trying to finish points too soon," she says, after reflecting back to that day. "I realized I needed to just look for opportunities, instead trying to force points, and that helped me come back in the second and third sets."
Catherine Petrovich's prior experience performing at the state level in four gymnastics events, was a huge factor in settling her in such a pressure-laden atmosphere. She had never played tennis until about two years ago, was undefeated in singles all year, and was the last one of the Foxes' players to step onto the court. She says, "I was under a lot of pressure; I knew I had to win because I was the deciding match. I just kept telling myself, 'You got this,' and I could hear Charlotte cheering and trying to help me from the sidelines. That really helped a lot."
The other four members of the championship team are doubles partners sophomore Katie Voigt and junior Paige Theoret, and freshman Diya Reddy and Anna Ferris, a sophomore.
"I'm just so happy for the kids because they work so hard and make big sacrifices. They understood what they had to do, and they did it," says Coach Slezak. "But the making of champions is not something that happens overnight. When I took over the team, I set out to get the culture right, and then the kids set the bar and raised it a little bit each year. We've been close a number of times, but this group is special. They were able to get us over the hump, and the memories from this experience will last forever. We will learn from it and grow from it, and, with such a young group, we will be prepared to go at it again next year."