Foxes' head football coach Tom Loughran says he likes to hire coaches who bring fresh perspectives to the team. It looks like he's done that with the addition of outside linebackers coach Anthony Griggs. A former 1982 fourth-round NFL draft pick by the Philadelphia Eagles, Coach Griggs approaches his new job by teaching more than the Xs and Os of the game.
"I think the kids here are great," Coach Griggs says after his first few weeks with the team. "Right now, I'm trying to get to know the players on an individual basis and let them know what I'm seeing as a coach with fresh eyes. I'm really just making them aware that I see what they are doing. I want to find out what makes them tick, what keeps them engaged and focused to be able to execute a play, and how aware they are of the importance of being in the right position, even before the ball is hiked. Mental focus and awareness are huge parts of the game and can get you through challenges when things get tough."
Coach Griggs joins the team of high school staff coaches that includes John Alerich, Vincent Gualtieri, Jim Hastings, Zach Metkler, John Moritz, Brandon Rios, Mark Shemanski, and Bob Sporio.
What Got Griggs to the NFL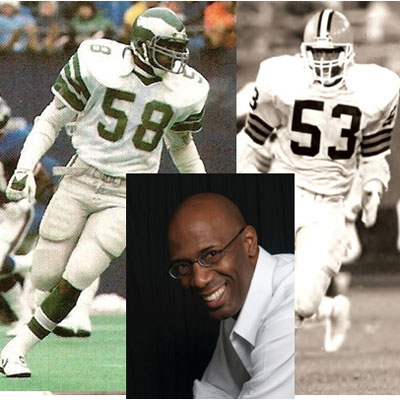 Coach Griggs' own journey to the NFL is an unlikely, yet inspirational story itself. It begins in New Jersey, where he grew up, and was a member of his high school's football team. He played during his sophomore and junior years, but the school district went on strike in his senior year, so the team only played about four games that season. Apparently, that was enough to draw the attention of scouts from Villanova University. But after his junior year of college, the university cut its football program. But destiny seemed to have a mind of its own as The Ohio State University recruited him to play for the Buckeyes.
"I didn't even start until the end of the year," recalls Coach Griggs of his time with the Buckeyes. "I thought, 'Great, that was nice and now it's over,' and was prepared to move on."
But then, in the offseason, his teammate mentioned that Pro Day that was being held on The Ohio State campus.
"Nobody (NFL scouts) was talking to me, but after my teammate mentioned it and urged me to go, I decided to attend," says Coach Griggs, who has built a successful second career as a motivational speaker and life coach. Believe it or not, he had never heard of Pro Day.
"The first coach I saw when I opened the door was one of ours, and he asked me what I was doing there," recalls Coach Griggs. "He told me, Sorry, this is just for All-Americans and kids the scouts have asked to see.' But another one of our coaches looked at me and said I could run (the timed trials) and put my name on the list. No one was really looking that closely at me, but a couple of scouts did ask if I had film. I told them I didn't have any film. Then, they asked if I had an agent. Of course, I didn't!
When my roommate told me a few days later that someone named "Dick Vernon," or something like that, had called, I said, "Do you mean Dick Vermeil (former coach of the Eagles)?"
It was. For the next four years Coach Griggs played for Philadelphia and, in 1985, was selected as the team's Man of the Year for his work in the community. He spent another three years with the Cleveland Browns before retiring.
On to Pittsburgh…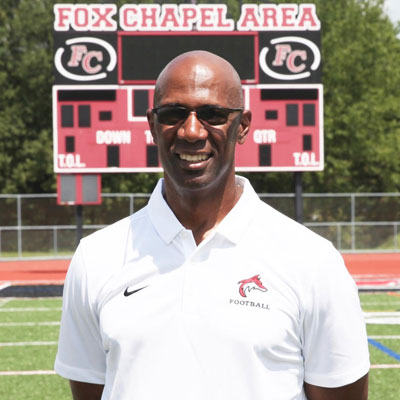 After hanging up his cleats, Coach Griggs joined the Pittsburgh Steelers as a player development coordinator under former coach Bill Cowher. There, he maximized players' potential through a comprehensive weight and conditioning program, and helped them mature into responsible, caring individuals on and off the field. After spending 14 years with the Steelers, Coach Griggs went on to become a motivational speaker and started his business and personal development company. He also has founded two charitable foundations.
Director of Athletics Mike O'Brien says of Coach Griggs: "He is a tremendous guy and always has a smile on his face and a kind word to say. He wants to know who you are as a person and he relates exceptionally well to everyone. He's just a very positive person to be around."
Coach Loughran adds, "Before you can become a good coach, you have to be able to make personal connections and relate to the kids. I'm happy that he's been able to do that in the short time he's been with us."