Last year, the Foxes boys volleyball coaches and players believed they could have made it to the WPIAL finals, but that never happened because of the pandemic. This year, they have the same expectations, only they are counting on players who were only sophomores and freshmen when the team last competed. Six of the players in the main rotation are now seniors, and two are juniors. What they bring to the court is a well-rounded group of athletes who can be shuffled among positions as situations call for it. The only downfall is that they haven't competed together much since 2019.
"I think we can be pretty competitive this year," says Coach Phil O'Keeffe, whose goal each season is to match or one-up the accomplishments of the 2015 group that won the section and WPIAL titles and went on to become the PIAA Class 3A runner-up. "The lack of match experience will hurt us in the beginning, but we're getting up to speed very quickly."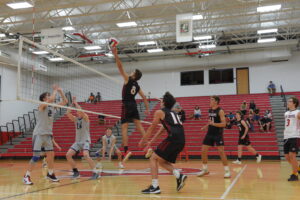 According to senior middle hitter Kaya Akinci, the team already has figured out how to be playoff contenders with the personnel and talent they have.
"Since we aren't as tall of a team as a lot of the other teams we play against, we realized that our identity is to serve hard and to play good defense, whether that is good passing or good blocking," says the power hitter. "I think the level of talent this year is one of the highest it's been in a while. We have a good number of players who have been playing together for a while and enjoy playing the game a lot."
Senior opposite hitter (OPP) Mike Tarasi brings a lot of power to the court from his background in football and is one of the most experienced players on the team.
"I think our team's strengths lie in our ability to play the game of volleyball as a whole," Mike says. "Almost everyone plays multiple positions, and our varsity team, despite not having a season last year, has had a lot of time together on the court. We don't have any crazy hitters or blockers, but I feel like our team has more experience than some of the others we play against."
Arda Akinci, a senior outside hitter who has a lot of potential, also is optimistic about how far the team can go. He says, "We have some very good passers, servers, and hitters who all have varsity experience from our sophomore year two years ago."
Besides Arda, Kaya, and Mike, Coach O'Keeffe has an arsenal of solid go-to players. They include, including senior middle blocker/hitter and excellent passer John Crookston and outside senior hitter Brendan Gladwin, a consistent, reliable player. Senior libero Jack Klatt also will see a lot of action this season.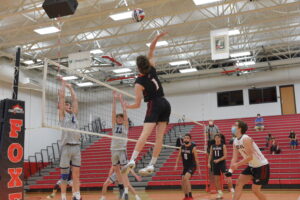 Additionally, Coach O'Keeffe is looking to see production from versatile outside hitter Ben Shelestak, one of two juniors on the team, who has stepped up his aggressiveness and is taking on more risks. The other junior is setter/hitter Eli Yofan. His natural athleticism and years of playing multiple sports under pressure can make him an "X factor."
Along with just a sense of relief that they are able to have a season, perhaps the biggest takeaway from more than a year of uncertainty is how much the guys appreciate being together and playing a sport they all enjoy.
Mike describes it this way: "Our team definitely knows how to have fun. I've played on many sports teams in the past and no other team has had the amount of energy that this one has. We are definitely the loudest and most competitive team in the section!"
Coach O'Keeffe is hopeful about what his team can get done this season, but adds, "They will need to earn some confidence by playing well against the top teams in the section, which is loaded once again. If they can do that, I think we can be a threat in the playoffs."