Dr. Chris Olbrich was supposed to have started his first year as head coach of the softball team in the 2020 season. He was all set to usher the girls into a new section, WPIAL Class 5A – with more like-sized schools than when they were in 6A –  but had to put aside his aspirations for the team until this season. What he encountered was a big question mark.
"You have no idea what you have when half of the team never played in a real varsity game before," says Coach Olbrich. "But we do have a solid core, competition at each position, and enough talent to compete against most teams."
It looks like some of that unknown is becoming clearer with the team recently going into section play with a 3-1 record. One reason for their success thus far is due to junior pitcher Mackenzie Borkovich, who helped the team get off to a good start in March with a close 1-0 defeat of Burrell High School. Mackenzie was the team's only pitcher when she played as a freshman, and has done the same thing again this year, temporarily, while backup pitcher, sophomore Hunter Taylor, recovered from an injury. Hunter also is the team's starting shortstop and is the clean-up hitter.
"The (Burrell) game was a hard-fought battle, but it was a relief to be able to pitch 10 innings and get the victory," says Mackenzie, who had 19 strikeouts in that game, partly due to her increased pitching velocity that went from an average of 56 mph as a freshman to 61 mph this season. "During that game, I was as focused as I could possibly be, and knew that I had to do whatever I could to keep my team in the game. Our entire team was cheering each other on until the last play."
Then, against Peters Township, Mackenzie struck out 19 batters and had a triple in the Foxes' blowout, 9-1. The players ended the first part of their season with a 3-2 walk-off win against WPIAL 6A foe North Allegheny.
"We were down 2-0 heading to the bottom of the sixth inning," says Coach Olrich. "We were flat with the bats, but the ladies came back, and we scored once in the sixth and twice in the bottom of the seventh to win in a walk-off. Mackenzie pitched well with 13 strikeouts and also put the ball in play to get the winning run in."
Defeating North Allegheny in one of their first match-ups of the season is becoming a welcomed tradition. When the Foxes were still in WPIAL 6A, they also beat then-undefeated North Allegheny in the teams' initial competition.
"We appreciate every win and the walk-off wins sure are exciting and fun to play. I was hoping the team would play together as one and support and believe in each other, and they did. There are always mistakes in every game, but you have to shake them off and keep a positive attitude the entire game. I believe that they are starting to believe in that philosophy. If you play that way for the entire game, good things will happen, and wins will follow. I hope we can keep this rolling as we get into section play."

Experienced Seniors Lead the Way
Senior left fielder Bella Krisky, one of the team's two seniors, has spent the majority of six years playing that position and has had plenty of time to hone her skills in drop stepping, tracking fly balls, and throwing long distances accurately. Her 5'10" frame also helps to catch balls that might otherwise have gone over her head. Coach Olbrich describes Bella as, "very focused and often knows what the team needs to do before they do."
Bella and senior centerfielder Neena Pietropaolo, a flexible player and defensive anchor, also have been leaders in preparing the young team for competition as members of the varsity team.
"Before games, I emphasize to the underclassmen to keep their heads up, even if they make a mistake, and just play to the best of their abilities," Bella says. "It can be really nerve-wracking, especially if you have never played a high school game before, and it can be really easy to get flustered after a bad play. But every player on the team has worked so hard this season and grown so much. They should have confidence in their own abilities because they are all great players. I tell them to go into the game with self-confidence, play the best that you can play, and do not let a mistake define the rest of the game for you."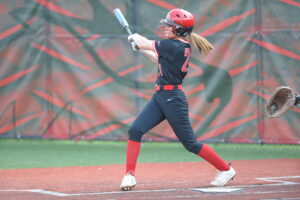 Neena, a WPIAL 6A all-section pick as a sophomore, is looking to pick up where she left off and repeat her hot batting record. In 2019, she hit three home runs – two of which were on her birthday – and had a batting average of .400. She has spoken with the coach at Mercyhurst College for two years now and will practice with the team over the summer. In the meantime, Neena says her goals are to become a more consistent hitter and a better outfielder.
In addition to Mackenzie, Bella, and Neena, the varsity rotation also includes veteran player Amelia Herzer, a junior, who is the starting catcher and third in the batting lineup. Another junior, Riley Culleiton, is a transfer from Vincentian Academy and, according to Coach Olbrich, is "a great fit for the team and is getting better every game."
Junior team leader Macayla Weiner returned this season at second base, and junior Brynn Palmer, a vocal leader, anchors third base and provides good batting power. Sophomore Alina Stiger and freshmen Catie Troutman and Mia Dunleavy are versatile players filling many valuable roles.
Coach Olbrich is proud of how the team has progressed so far, shown resilience, and stuck together through some close games.
"I think we are going to surprise everyone if we can continue playing as a team if the girls can continue to communicate,  and if we continue to trust in each other," Coach Olbrich says.