Senior soccer standout Claudia DeMartino plays with the utmost confidence and is a team leader, but as she tells it, her parlay into becoming a young varsity starter began under very different circumstances. Her promotion up to the varsity team came unexpectedly at the 2016 WPIAL 4A playoffs in a high-pressure game that determined whether the Foxes would advance to the PIAA tournament for the first time in 16 years. After a senior became ill before the game, Claudia only had about 45 minutes notice to mentally prepare for the challenge, but it was one that her coach and the senior starters agreed she could handle.
They were right. Claudia and the defense held opponent Mt. Lebanon scoreless, 1-0, and were overjoyed with their hard-fought victory.
Claudia remembers that day well and says, "The first time I truly started was at that playoff game. I was terrified because I had never played outside back in my entire life. And I was really nervous because I didn't want to mess up and disappoint the seniors, who I was pretty scared of at the time, because they were so experienced and older. But I told myself to not panic and to listen to the seniors and coaches because they would get me through the first few minutes as I worked out my nerves. I just tried not to overthink things and just play the game."
Awesome Foot Skills and Versatility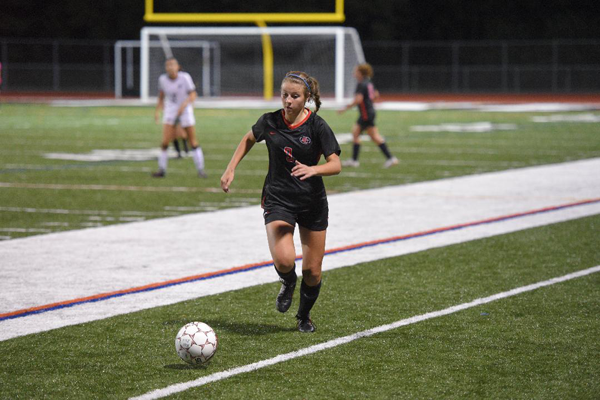 In the ensuing years, Claudia has continued to contribute to her team in big ways. A very versatile player, she now has experience playing at just about every position on the field and joked that she'd even played goalie at times during her youth soccer days. Those days of playing when she was young were so different, she says. "I don't know why I remember this, but there was one game when Sophie Williams (who also plays on the high school team) and I must have been bored, so we started making rock and grass soup on the field during the game!"
Claudia probably hasn't sat still since then and has worked year-round to mold herself into a stellar player. In addition to high school soccer, she trains all year, plays for a Riverhounds' club team in the offseason, and participates in the school's strength and conditioning program's summer workouts almost every day. She believes her endurance and arm strength have improved because of it and is proud of the fact that every year she has met the team's mandatory timed running test of getting in two miles in 14 minutes or less.
"Claudia is an outstanding soccer player who has the desire to train at a high level," says Coach Torres of his player, who is a member of the National Honor Society and an officer for the Best Buddies program. "She has always pushed herself and led by her actions. Her strengths lie in her technical ability, the fact that she has played a variety of positions and played them all well, and her ball distribution."
Challenging Year Ahead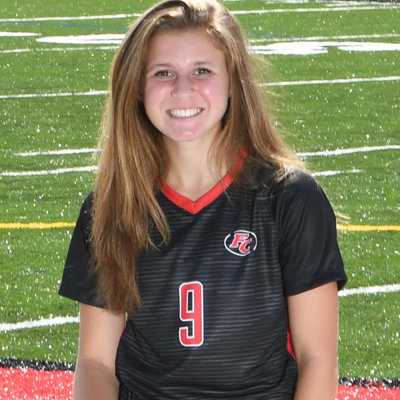 Last season was a very challenging one for the girls as they moved up to a section that's jam-packed with some of the largest and best soccer programs in the region.
"Last year was so tough," Claudia admits, "and I don't think we were expecting the teams that we played would beat us by so much in the beginning. As the season went on, we became more of a team and really got to know each other's strengths, and it got a lot better. This year we have to do a lot more bonding with the underclassmen because they will be the ones filling the empty positions. Playing more together will make us better this year.
"I think our offensive and defensive lines are both going to be really strong because that's where we have most of our players coming back, and we have both of our center backs and wings returning. Midfield is the place where the most decision-making (regarding new players) will take place."
Naturally, Coach Torres will go to one of his best players to anchor that area.
"I'll be playing somewhere in the midfield depending upon the formation," says Claudia, who is being recruited by NCAA Division I and Division III colleges. "But that could change as the season progresses."
But no matter where Claudia eventually ends up on the field, she's sure to contribute to the Foxes' success, given her talent, legendary foot skills, adeptness at using both feet, and pinpoint accurate passes and crosses.