When Foxes basketball player Ally Hager was in eighth grade, she convinced her parents to let her foster kittens from the Animal Rescue League. It's a passion for her, but she doesn't exactly remember how many dozens of kittens and cats she has given a loving, temporary home to until they find their "furever" families.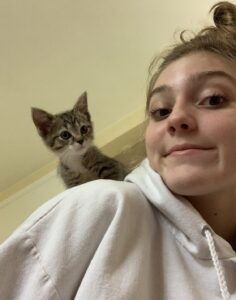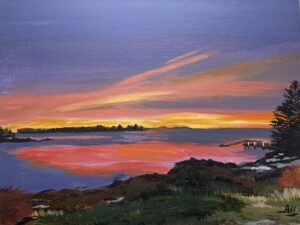 The "Ally" who shows up on the court is, in many ways, similar to the animal lover and student of the arts who has the patience to spend hours upon hours at the easel painting landscapes. But she is also a hustler and very determined to help her team in any way she can.
"Ally has great composure on the court and her calm demeanor gives us confidence when she has the ball in her hands," says Coach Marty Matvey of his 5'10" senior forward who is getting her first shot as a full-time starter this season. "She also is very aware of where the ball is on the court in respect to her teammates and where she puts herself in the best position to score."
"I think I've made a lot of progress since last year, and the more I play, the more confident I get," says Ally. "I feel as though I'm playing very aggressively on both defense and offense and have improved from last year."
In past years, Ally had questioned where she could fit in on the team and contribute. This year, everything seems to have settled into place.
"Finding my place on the team was a little hard," Ally says. "We already have two really good post players (Ellie Schwartzman and Elsie Smith), so that was a challenge for me. But we have learned what we're each good at and this year we figured it all out. We've played together since we did travel basketball when we were younger and we're all friends and really close. That's a big thing."
"Ally's best asset is her touch around the hoop and her ability to move without the basketball," says Coach Matvey. "She has an uncanny ability to be able to read her teammates in order to put herself in a position to receive a pass and score. Ally is a lot more comfortable on offense this season and is continuing to expand her game as the season progresses."
Came Back Strong
Coming into the season, Ally was determined to make this year her best. She suffered from a stubborn ankle injury that caused her to miss last year's playoff game against Bethel Park, and no one was more disappointed than her. She felt she could have made a difference in that outcome.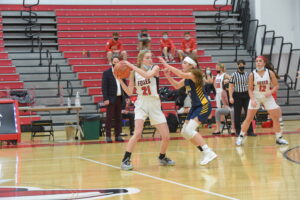 "I wanted to be there so bad," she says. "This year I really feel like I'm back. I was afraid I would be out of shape after having to take all that time off, and then we had the COVID shutdown for three weeks."
She believes she's up to speed now and it's showing. She's averaging 10 points a game and scored a career-high 21 points in a game against Hampton earlier in the season. During the last week of January, Ally was a game-changer in the contest game versus Plum that ended up with an exciting come-from-behind victory. Much of that shift on the scoreboard was due to Ally pouring on seven points in the last minutes of the game.
Coming Into Her Own
Ally also plays volleyball for the Foxes and believes the drills they did over the summer and fall – which included a lot of jumping and eye-hand coordination exercises –  were valuable to improve her hoops game as well. She also has natural instinct, which has benefited her in basketball.
"Ally is instinctive when she gets the ball," says Coach Matvey. "When she is in her sweet spots, you can bet she is shooting the ball. She doesn't hesitate."
"I'm just always doing my best in practices and games and constantly trying to improve," she says.
In a way, Ally's determination to achieve her very best on the court mimics her determination to create the depth and texture required to make her paintings beautiful and vibrant – building upon her foundation, layer upon layer, and a lot of practice, patience, and persistence.