Reed Clarke has spent most of his 81 years involved in sports in one way or another. For the past 45 of them, he's been a welcome figure at the scorer's table at Foxes' boys varsity basketball games, keeping track of the data that will uncover trends and reveal some of the teams' strengths and weaknesses on paper. It's a position that his good friend, former Foxes coach and fellow teacher Henry Jenkins, invited him to do back in 1976, and he still enjoys doing it all these years later.
Reed's first association with the Fox Chapel Area School District began in 1966 when he was hired as a physical education teacher at the high school. In addition to that position, he often worked as an officiant at basketball, football, swimming, and track and field contests in Fox Chapel Area and throughout the WPIAL. Right before he joined the district, Reed even served as a swim coach, although he never swam competitively himself. Over several decades, he gradually gave up most of those activities, one by one, but sitting quietly at the scorers' table at Foxes basketball games remains something he looks forward to each week during the winter season. By now, he has probably kept the books at well over 800 varsity games.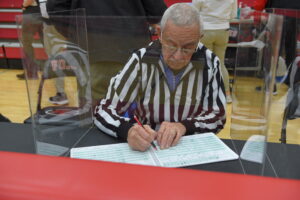 Reed has had the pleasure of watching Foxes teams and others win section and state titles and has seen some of the most impressive athletes competing throughout their high school years. Yet, he rarely gets to take in all of the action and excitement.
"I can't watch the games because I'm too busy keeping track of scores, fouls, timeouts, and rebounds," says Reed. "I have to keep on top of everything all of the time."
Still, he likes being in the gymnasium and chatting with the people there. "What I like, of course, is still having the contact with young people and meeting some very nice people over the years. Plus, it gets me away from the house!" Reed says, with a laugh.
Another activity that takes him out of the house in the warmer months is golf. It's a sport he enjoys, but he also has put his knowledge of the game to work on the greens at Oakmont Country Club for the past 30 years. There, in his work as a starter and course monitor, he's met quite a few characters, famous golf pros, and celebrities. Among his greatest memories are the times he walked the course with Arnold Palmer and Jack Nicholson. Tiger Woods also played the historic course while Reed was on duty.
He recalls some of those times. "I've worked at five U.S. Opens at Oakmont and the greatest thrill of my life was meeting Arnold. He was so much fun, and Jack Nicholas was very outgoing too. They would sit on the bench with me, and we'd just talk."
Sports a Lifelong Pleasure
When Reed was a high school student, he played an array of sports, including basketball and football, and he also ran track.  As a runner, he earned a full athletic scholarship to the University of Pittsburgh, where he competed against some of the best athletes of that time.
"I ran against some excellent competitors," he says, naming teammate Arnie Sowell from Pitt and Frank Budd from Villanova. Arnie finished fourth in the 800 meters at the 1956 Summer Olympics, and Frank, who also played in the NFL as a wide receiver, won three NCAA individual championships, was a two-time Penn Relays champion, and represented the United States at the 1960 Summer Olympics in Rome.
He also remembers the time when the Pitt team ran indoors at Madison Square Garden in New York. "I'd say that was my nicest experience of all of them, but just traveling all over the country and going to different places was just a great experience."
The octogenarian Reed enjoyed running so much that he continued to do it even into his 70s. "But now, it's more jogging than running," he says. 
Differences Over Time
Because of his long history with sports and youth, Reed is a pretty good authority on what has changed over the years. It's not so much the kids who have changed, he says, it's how sports are now approached and the intensity of the competitions.
"When I was an athlete, we would lift (weights), but it's not like nowadays," Reed says. "I think the difference is especially noticeable in swimming and track, where the athletes didn't do a whole lot of strength training before. Now, the kids are much stronger and more competitive. They also seem to pick one sport and stick with it all year long."
Fox Chapel Area School District Athletic Director Mike O'Brien wasn't around when Reed first came on board, but he is very appreciative that he has continued to be part of the Foxes basketball program.
"It's great to have someone with so much history and knowledge of Fox Chapel Area athletics on our team," says Mike. "There's no substitution for that. We all look forward to seeing Reed at the games and are grateful for his many contributions. It's not easy to keep up with all of the statistics during a fast-paced game like basketball, so we are very thankful to have had him on board for more than four decades."