Part I in a series.
If you believe in folklore, Phil the Groundhog says spring is coming sooner, rather than later. That's welcome news for the Foxes' coaches and athletes who are awaiting milder weather in order to move outside for practices.
Here's a look at how the spring teams are shaping up for the upcoming season.
Boys' Tennis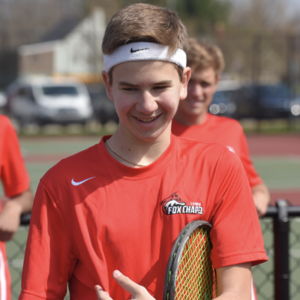 The 2018 team won their section with a 7-0 record, went 15-1 overall, won the WPIAL team championship, and advanced to the PIAA playoffs. Additionally, returning senior Robby Shymansky is the WPIAL singles champion and has advanced to the PIAA championships every year since he was a freshman. The team also returns seniors Jared Nord, Jay Kashyap, and Brandon Wei, and junior Milo Baron, who have continued working on their games by playing in offseason tournaments. Coach Alex Slezak says, "We are entering into the senior year of a core group of young men who have won three WPIAL titles and changed the dynamic of our program overall. I already know this season will be a win because these young men have learned lessons and made friendships they will never forget. Their legacy will have a lasting impact on our underclassmen for years to come."
Baseball
Jim Hastings took over as head coach last season, led the team to records of 6-6 in the section and 9-11 overall, and they advanced to the WPIAL playoffs. Since September, the team has participated in a weight training and conditioning program twice a week, and then in January they began practicing three days a week. The team will field 10 returning starters including seniors Dante DeBaldo, Matt Jerpe, TJ Johnston, Noah Marks, Mitchell Miles, Jonathan Simon, and Ryan Wagner. Also returning are juniors Gavin Donaldson and Alex McRandal. Coach Hastings says, "We have had a great turnout in the offseason, and our players have been working extremely hard on their baseball skills and in the weight room. We are really excited for the start of the season and look forward to a successful season at all levels of the program."
Softball
Last year, the team advanced to WPIAL playoffs, but after losing nine seniors, this year's group will be young and in a rebuild mode. Returning starters are juniors Claire Katz and Jessica Klein and sophomore Neena Pietropaolo. "It's going to be a great opportunity for the younger players to get varsity experience early," says Coach Lisa Hess.  "I'm sure we will go through some growing pains, but it's going to be good to see them progress. We have several additional talented returning players who are also ready to contribute."
Girls' Lacrosse
Rebecca Hartrum takes over the program this season. With her experience playing and coaching at the high school, college, and club team levels, she is determined to use that knowledge to build upon the team's 2018 14-3 record and take them further than last season's WPIAL quarterfinals. She expects big things from the team, especially after watching the Lady Foxes hone their skills and conditioning in the offseason, and seeing some of the varsity players compete in an indoor league over the winter. Returning starters include senior Marissa Hardiman, juniors Mary Ellis and Sloan Rost, and sophomore Hannah Humes, although Coach Hartrum says the entire senior class is experienced and already demonstrating great leadership.