Sixteen of Fox Chapel Area's strongest swimmers are headed into the postseason next week to face their toughest competitors at the 2019 WPIAL Class AAA swimming championships. The events will be held February 28 and March 1 at the University of Pittsburgh's Trees Pool.
"Each year, the qualifying times get lower and lower, so the kids who reach this level have worked exceptionally hard to get there," says Foxes coach Dan Taylor. "They are very excited to compete against the top WPIAL swimmers."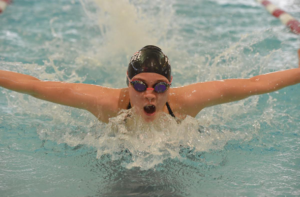 Among the favorites going into the competition is freshman Zoe Skirboll, who is nationally ranked in several events and broke four school individual records this season (50 free, 100 free, 200 IM, and 100 breast.) Although she qualified in all eight events, Zoe and her coach have selected the 100 breast and 200 IM as her races for the tournament. (The WPIAL allows swimmers to participate in only two individual events.) She'll also be part of the 200 medley and 400 free relay teams.
This will also be senior Margaret Fox's first experience at WPIALs, and she couldn't be more excited.
"When Coach Taylor told me I was going to be in the 200 free relay, I was really happy, especially since it's such a great way to finish off my senior year," says Margaret, one of the team's captains. "I've worked really hard to get to this point. All of us are pumped up to go (to WPIALs) and ready get our best times."
Junior Nathaniel Haitema-Serkov, who did double duty as a diver and swimmer prior to this year, made the postseason in the 200 medley and 200 free relays. He also made the cut in the 400 freestyle medley and will swim as an individual in the 50 free. He broke the school pool record in the 50 free this season.
Nate says a former coach told him that he should always shoot for a goal that seems over the top or impossible, and that's exactly what he's done. "Just making it to WPIALs last year was a great experience, but this time I'm looking to get my best times. I really like this part of the season when the practices get even more intense than usual. We have a group of really hard working, motivated kids going to WPIALs who are very focused and determined to reach their goals and best times."
Teammate Vivian Shao also competed at WPIALs last season as a freshman. She swam in all three relays and individually in the 50 free. This time she's competing as part of the 200 medley relay and the 400 free relay and the 100 and 200 free individual races. She's also an alternate in the 200 free relay.
Driven and dedicated, Vivian credits her success to a positive attitude and rarely missing a practice. She says the team's dry land practices also have contributed to her core and body strength. Additionally, she says, "Last year I just wanted to make the WPIAL cuts and had concentrated on my sprint events, but this season I feel more efficient in the longer events and have focused more on the mid-range distance races."
Her goal and that of her teammates is to get to states. "We're excited to go all out and get our best times," Vivian says.
Margaret believes there really isn't a secret formula for achieving their dreams and adds, "We just have to swim really fast!"
Here is the full list of the Fox Chapel Area High School WPIAL qualifiers for 2018-2019.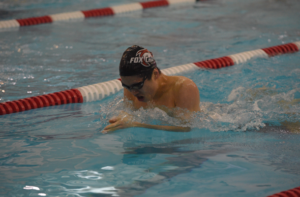 Relay Teams
200 medley relay girls – Grace Gackenbach, junior; Zoe Skriboll, freshman; Leia Ross, junior; Vivian Shao, sophomore; freshmen alternates Julia Stutzman and Rei Sperry
200 medley relay boys – Evan Gu, junior; William Wang, junior; Ian Chang, senior; Nathaniel Haitema-Serkov, junior; and alternates Nathaniel Ross, a freshman, and senior Colin Hackwelder
200 free relay girls – Angelique Uku, junior; Margaret Fox, senior; Julia Stutzman; Rei Sperry; and alternate Vivian Shao
200 free relay boys – Nathaniel Haitema-Serkov, Nathaniel Ross, Colin Hackwelder, Nathaniel Roe, and alternates William Wang and Ian Chang
400 free relay girls – Zoe Skirboll, Leia Ross, Grace Gackenbach, Vivian Shao, and alternates Margaret Fox and Rei Sperry
400 free relay boys – Colin Hackwelder, junior Jake Sperry, Nathaniel Ross, senior Nathaniel Roe, and alternates Nathaniel Haitema-Serkov and Ian Chang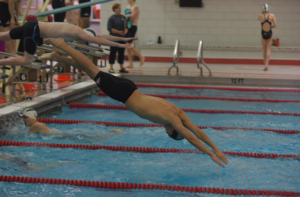 Individual Qualifiers
200 free girls – Grace Gackenbach and Vivian Shao
200 free boys – Colin Hackwelder and Jake Sperry
200 IM girls – Zoe Skirboll
200 IM boys – William Wang
50 free boys – Nathaniel Haitema-Serkov and Nathaniel Roe
100 fly girls – Leia Ross
100 free girls – Vivian Shao
100 free boys – Colin Hackwelder
100 back girls – Leia Ross
100 back boys – Nathaniel Roe
100 breast girls – Zoe Skirboll
100 breast boys – William Wang
500 free girls – Grace Gackenbach
500 free boys – Jake Sperry