This season, there has been a changing of the guard on the Foxes' wrestling coaching staff, but in reality, it's closer to musical chairs than a total transition in leadership. All three current coaches ­– Ron Frank, Michael Frank, and Bob Siar – remain, but in different roles.
After more than 400 career wins and a legendary career as a head coach, Ron Frank has stepped aside to become an unpaid volunteer assistant after being elected to the Fox Chapel Area School Board. Assistants Michael Frank and Bob Siar are now co-head coaches. Other than title changes, it has been a smooth transition since all three men have worked as a team for a very long time.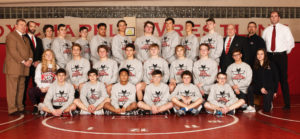 Coach Michael Frank has been an assistant to his father Ron since the 2004-2005 season, while Coach Siar has served alongside Ron Frank for 28 of his 38 years of coaching, and even coached Michael when he was in high school. Both coaches Michael Frank and Siar were accomplished wrestlers themselves during their younger years.
Coach Siar has been involved in wrestling for 55 years and has coached at the college, high school, and middle school levels. While a teenager at Shaler Area High School, he was a PIAA wrestling champion and a PIAA runner-up. At Slippery Rock University, Coach Siar was a Pennsylvania State Athletic Conference runner-up. Coach Michael Frank wrestled for Fox Chapel Area and went on to become an East Regional Champion and NCAA Division 1 National Qualifier while a student at Duquesne University.
"I think all of our styles have meshed," says the younger Frank coach. "We have always had open discussion about any decisions that need to be made, and we all get an opportunity to share our opinions. That won't change just because our job titles have. The only difference is we have the most qualified volunteer assistant in the WPIAL!"
While, over the years, there have been drastic improvements in equipment and there are more girls wrestling now, the overall vision for the program at Fox Chapel Area has remined the same – to develop young wrestlers, not only on the mat, but also in how they carry themselves every day off of the mat.
2020 Vision
Entering the 2019-2020 season, the Foxes have 11 wrestlers returning, including seniors and WPIAL qualifiers Eddie Farrell, Josh Miller, and Alex Wecht, and sophomore Ray Worsen. Last year, Eddie placed seventh at WPIALs and posted a 31-11 record. Also returning is senior Luke O'Connor; juniors Henry Gavazzi, Zane Gavazzi, and Sam Zukerman; and sophomores Brendan Kost and Jordan White.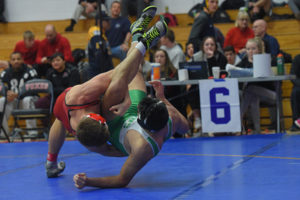 Coach Siar assesses the team as "a great group of kids who are willing to put the effort in to becoming better wrestlers."
"We have some high-quality individual wrestlers, but our overall team will be rather inexperienced this year," says Coach Michael Frank. "At this state of the season we've seen some wonderful growth and the attitude and work ethic of the team has been fantastic. Now, we are adapting each individual's strengths and weaknesses to maximize their talents and work on improvement between now and the end of February."
Also returning this season to help with the developmental process is volunteer assistant Tim Frank, who was a WPIAL champion while competing for Fox Chapel Area and then continued his wrestling career at Duquesne.
New to the staff this season are part-time coaches John Baxter, whose family has a long history of wrestling, and Ryan Logue, who most recently was an assistant for the Upper St. Clair wrestling team and specialized in working with the heavyweight classifications.