The Butler Track and Field Invitational is one of the largest and oldest regular-season WPIAL events in the sport and attracts most of the area's top athletes. With roughly 60 schools participating this year, this invitational, along with the Pine-Richland tournament coming up on May 6, are pretty good indicators of what's to come at the May 18 WPIAL Class 3A championships. The Foxes had some outstanding performances during the two-day Butler competitions that should earn them spots among the WPIAL's top echelon of athletes in the postseason.
The 4 x 800 relay team of seniors Jack Lorence and Jordan Gwin, junior Damian Blum, and sophomore Rowan Gwin raced to a second-place finish with a time of 8.10:95.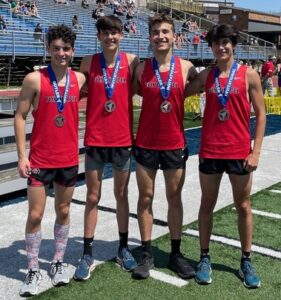 "They laid it all out there and ran really well," says coach Tom Moul. "They beat their previous best time by 25 seconds. The guys really wanted this, and they made it happen. Damian did especially well. He's been good in the 4 x 400 relay in the past, but with his speed and talent, we think that can translate to the 800 and he can be even better. You need patience to be a competitive distance runner, and I think that Damian's work is starting to pay off for him."
"We were seeded fourth, but we all ran extremely well," says Jack. "Rowan started us off with a really strong and maintained a high position. Damian was second leg for us, and he had a huge personal record that was 10 seconds faster than the last time he ran the relay. Jordan then maintained second place for us and extended the gap on the runners behind him. I was anchor and maintained second for us, and I also started to close in on the Butler team, as well (Jack set a new PR in that race.)."
Other runners who medaled on the track (top 8) were sophomores Anna Troutman (5th – 100-meter hurdles) and Stephen Schrim (6th – 400-meter dash).
But the Butler Invitational also highlighted just how good the Foxes field athletes are.
Jumping – Every Inch Counts
Anna, who is also a standout on the girls soccer team, already broke two indoor track and field records during the indoor season (hurdles and high jump), and added another one recently in the high jump at 5' 6″. At Butler, she continued her success by winning gold in the high jump and medaling in the long jump. According to PA MileSplit, Anna is listed in a tie for the second-highest recorded high jump among all high school girls in Pennsylvania this season. While she says she jumps better when she is "loose," Anna does have definite techniques in mind.
"In the high jump, before I start my approach, I try to remind myself of all the little things I need to do to make my jump better," Anna explains. "High jump is a very technical event, so there are lots of little things that can make or break my jump. So, as I look at the bar right before my jump, I quickly think of all those things. Mid-jump, I don't really have many thoughts. As I run up to the bar, I like to count steps in my head, but that's pretty much it. I let my muscle memory take over as soon as I jump and hope it works!"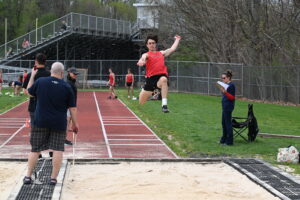 Junior George Tabor, the boys soccer team's top scorer last season, surprised even himself by earning gold in the triple jump. Like Anna, George participated on the Dorseyville Middle School track and field team, but did not continue in high school until this season. When he did decide to jump back into the sport, he had little to no exposure to the jumping events.
"I knew I had the potential to do well, but seeing my distance and knowing it could win me the meet was a great surprise at the time," says George.
"He had a really great day in the triple jump," says jumpers' coach Tim McLister. "He jumped 43'3" in the finals, and with that personal best, was able to win the gold medal in the event. He is definitely a natural athlete, and we are excited to see how much more he can improve. He should contend for medals at the WPIAL finals in all three jumping events."
As far as the WPIAL, and according to PA MileSplit, there is only one recorded triple jump this year in the WPIAL whose mark is better than George's.
Both Anna and George carried that momentum two days later at a tri-meet versus Shaler Area and North Allegheny. George set a new personal best in the long jump (21'2.5") and won gold in the long jump and triple jump against both teams. Anna won the long jump against Shaler Area and placed second against North Allegheny.
Throwers in Beast Mode
Coach Moul said that for the first time he can remember, the Foxes throwers actually "look" like throwers. There is probably a reason for that. Senior Caleb Kulikowski and sophomore Mason Miles are both members of the Foxes football team, and the strength they have gained training for that sport has turned out to benefit them in this sport too.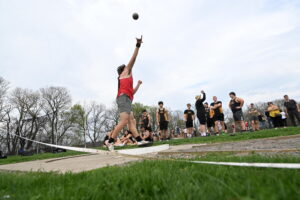 Caleb came in second in the shot put at Butler with a score of 45'7" and medaled in seventh place in the javelin with a throw of 150'2." At a subsequent tri-meet, Caleb scored six first places – three versus Shaler Area and three versus North Allegheny.
"Caleb has continued to be a leader on the team," says throwers coach Scott Karavlan. "He is a positive and kind kid who is always willing to help younger throwers."
Mason is one of those underclassmen who has benefited from Caleb's mentoring. Just a sophomore, Mason competed at the freshman-sophomore only invitational at Seneca Valley instead of at Butler, but he proved his potential. At Seneca Valley, he won the shot put and discus events, and his 50'3.5" shotput throw set a new invitational record. He also set an additional record in discus with a score of 117'3".
Coach Karavlan adds, "If Mason had been at the Butler invite, he would have won gold there too (against athletes up to two years older than himself). I'm confident that both Caleb and Mason could qualify for states, and if he continues to progress, I have no doubt that Mason could break our school shot put record."
"I'm definitely pleased with where everyone is right now," Coach Moul says. "It's a good group of kids who get along well together and pull each other along. We're hoping to have a lot more of them competing at WPIALs, because there are a lot of motivated kids who want to do well there."