When Phil O'Keeffe first drove over the hill on Fox Chapel Road in 2003 and saw Fox Chapel Area High School nestled in the valley, he wondered how things were going to turn out for him as the new head boys volleyball coach. One thing he never imagined was that 20 years later, he would still be at the helm and so beloved that many of his former players attended the May 3 game to celebrate him and his milestone coaching achievement.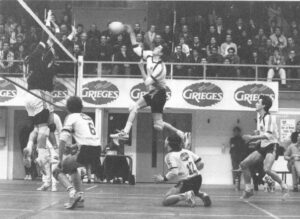 It was well-deserved recognition for a coach whose influence in the world of volleyball includes his own playing days, at Central Catholic and then at Allegheny College, and beyond. Phil (as he asks his players to call him) also played professionally for eight years with the Macon Volleyball Club in France. After he came back to the United States, a friend asked him to help coach a Junior Olympic team over the summer, and that's when he got his first start at teaching the game instead of just playing it. A year later, he accepted the coaching job at Fox Chapel Area High School.
In his years with the Foxes, coach O'Keeffe has had many years during which he led his teams to WPIAL and PIAA prominence. This includes:
2 PIAA team runners-up
6 teams making the PIAA playoffs
2 WPIAL champions
6 teams making the WPIAL playoffs
2 WPIAL team runners-up
3 section titles
Phil also coached seven athletes who went on to play at the Division I level in college,e including the Tublin brothers, Dan (2010) and Josh (2013). Dan played for Stanford when the team earned the silver medal at the NCAA championship finals, and Josh played for Ohio State. During his time with the Buckeyes, Josh played on two teams that won national championships. Others who competed at the next level were Nick Rivett, Seth Katich, Darren Depellegrini, Jaysen Zeleski, Jack Reese, and Ray Tarasi.
"It's kind of odd, because it seems just like yesterday that they were 14-year-olds, and now many of them have families of their own," the coach reminisces. "It's been nice to be able to see that progression."
Meanwhile, the coach is optimistic about the potential of his current team.
"I am having a blast coaching this year's team," he says. "We have three first-year seniors who are enthusiastic and working really hard. They have made tremendous progress in such a short time frame, and I couldn't be more pleased with their efforts. While it's true that we have a talented sophomore group, if it wasn't for the seniors, we wouldn't be anywhere near as good as we are this season. Ben Shelestak is one of the most talented players I have had and would easily have a starting role on any of my teams.
"I'm not sure if we are in the mix for a WPIAL title, but we hope to make the playoffs and take a shot at it. The 2007 crew made it to the WPIAL finals from the 9th seed, which is unheard of, so you never know." 
Passionate Mentor and Teacher
Not only has coach O'Keeffe taught the game to hundreds of young Fox Chapel Area players, but he has also championed the sport. He co-founded three area club volleyball teams and co-founded the Pittsburgh Volleyball Alumni Classic, now in its 23rd year. In 2021, a Foxes alumni team won the tournament for the first time. Another event the coach founded is the Fox Chapel Area Volleyball Tournament. It will return in 2022 after a hiatus necessitated by the COVID-19 pandemic. Additionally, the coach promotes the future of the sport at the high school and middle school levels through his membership on the WPIAL Volleyball Steering Committee.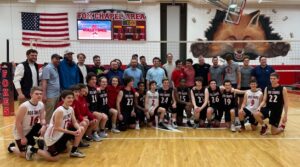 Getting more young people involved in volleyball has been one of the coach's top goals. After a hiatus due to COVID-19, Phil is looking forward to offering his summer camps again. He has organized a staff of respected volleyball coaches from the region to teach boys and girls entering grades 6 through 12. Week one will run from July 18-July 21, and week two will be held July 25-July 28. Both camps will go from 10 a.m. to 4 p.m., Monday through Thursday. (For more information, visit https://forms.gle/ruivLeBsNnp3Pdfw5.)
But perhaps the biggest imprint coach O'Keeffe has made on the Foxes program is the many coach-player relationships that have developed into lifelong friendships. Nick Rivett (2006), one of the best players to come out of the program, even asked him to officiate at his wedding, and he was part of 2007 grad Eric Garrison's wedding party. Others have invited him to their weddings and other special occasions.
A Coach's Coach
Phil has also left his mark as a mentor to young, aspiring coaches, including current assistant coach Jordan Veree, who joined him in 2016.
"Phil has a very unique, effective, and versatile coaching style," says his assistant. "Whether you are a first-time player, or someone who has been around the game for an extended period of time, he makes it easy to understand, fun to play, and is able to bring out the best in his players. He has a fantastic sense of how to coach on a case-by-case basis, tailoring his style to what each individual athlete may need to grow in the sport."
In addition to coach Veree, Phil took under his wing former Foxes players DJ Guardino, Tony Rivett, and Mike Palaschak, who now heads the boys volleyball program at Norwin.
His most high-profile protégé is Kellen Petrone, the current assistant of the NCAA DI highly ranked Pitt women's volleyball team. He was a coach under the direction of Phil for a bit and helped guide two of the Foxes teams to the state finals and a WPIAL championship. In the six years coach Petrone has been with Pitt, the ladies' team has reached new heights and advanced to the NCAA tournament every season. In a recent podcast, he praised coach O'Keeffe and the influence he had on him.
Coach Petrone said, "I started coaching with Phil at a young age and was really lucky. Phil has an absolute specialty in getting kids excited about volleyball. It's why I got hooked onto coaching while I was still playing."
To mark his 20th season with the program, some of the coach's current and past players expressed their praise for the impact he had and continues to have in their lives.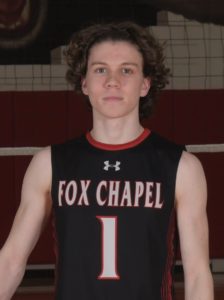 Ben Shelestak: "Phil shaped me into the volleyball player I am today and has helped me to improve my skills tremendously. When I first played volleyball, I wasn't very tall and started out playing libero. Then, as my skills and height went up, Phil moved me from libero to an outside hitter. He has helped me to become a really constant passer and hitter, which became valuable to the team. Off the court, Phil's lessons can still be used and implemented. He's always telling me to wait, be patient, and don't try to force something to happen if it's not there."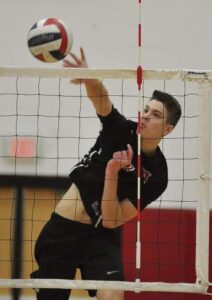 Patrick Kiszka (2020): "Phil is a great coach! He convinced me to come to a few open gyms after telling me my previous sports backgrounds of soccer and basketball were perfect to make a good volleyball player. I was completely new to the sport, so to say those first few practices were rough is an understatement. But Phil took his time and really helped me become a great player. I now play on the PSU club team and wouldn't have been able to make it without his coaching."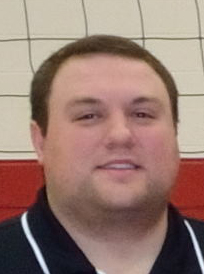 DJ Guardino (2006): "Phil's leadership was always there while he was my coach. He would do drills with us to teach us, and it was watching him do that which made me want to play for him. He drove us to work hard every day at practice. After I graduated, I coached alongside him for the next nine years. He showed me how to teach and lead, but more importantly, he helped me mature as a young man. One of the best qualities that Phil has is integrity. He always does the right thing. That's a quality that I've always respected and followed."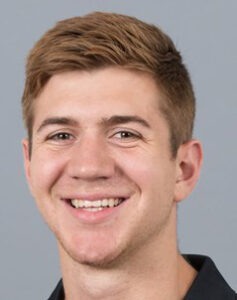 Dan Tublin: "Volleyball was the best part of my time in high school. I developed a great group of friends, and I found purpose beyond studying alone each night. I simply loved coming to practice each day. I credit this incredible experience to Phil and what makes him so special – his commitment to my development, his deep knowledge of the game, and his relentless promotion of and enthusiasm for a sport that most middle-schoolers do not have on their radar. Through Phil, I learned how rewarding it can be to stick with something and make slow but steady progress. And, more importantly, Phil taught me the value of sharing that progress alongside a team and the larger community it's a part of. These lessons are even more valuable now off the court."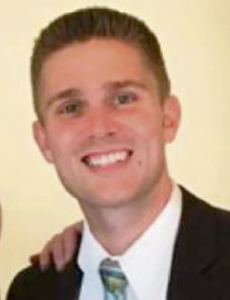 Nick Rivett (went on to play at St. Francis): "Phil is extremely competitive, which, as a competitive person myself, helped me grow as a player. He is known to have some of the best analogies that can be related to volleyball or any other aspect of the point he is trying to get across. He was always creating drills that he thought would work best for the team. They could be unorthodox, but they helped develop certain skill sets to make the team better volleyball players. I couldn't be happier to see him reach the 20-year mark of coaching at Fox Chapel Area, along with developing so many athletes into great volleyball players."