Senior Jack Lorence and sophomores Laura Carter and Clara Kelley are headed to the sweetest spot of Pennsylvania – Hershey – for the most competitive race of the cross country season, the PIAA Class 3A championships. It will be Jack and Clara's first trip to the invitation-only event that draws the most elite runners in the state. Laura made the cut last year as a talented freshman.
Jack has been the Foxes' top boys cross country runner for the past two years; sophomore Laura Carter is the girls' No. 1 runner, also for the past two seasons; and sophomore Clara Kelley, who has rebounded from a lingering injury, also advanced this season.
Jack Finally Knows How Good He Is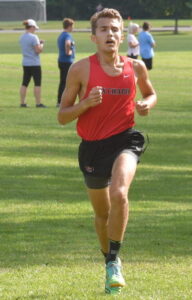 During the regular season, Jack won the Gateway Invitational and is the current individual section champion. He also medaled at the Red, White & Blue Classic and at the Tri-State Track Coaches Association (TSTCA) meet, and was voted by his teammates as the most valuable boys runner this year. At WPIALs, he was very pleased with his time and placement but says it's taken a while for it to sink in that he's one of the best runners in the area, which is, arguably, considered the most competitive in the state.
"At first I thought, 'Should I be up here with the top runners?'" says Jack, whose pace at WPIALs, from start to finish, was right up there with those other elite athletes. "But I've done what I've needed to do, so I finally know that I belong with those guys."
Coach Moul has plenty of praise for his runner, who medaled in ninth place at WPIALs. Although Jack qualified to move on to the state meet as an individual, the fact that the boys team advanced makes his individual status moot. Runners qualify individually only if their team does not place high enough to participate in the championships. But, Jack's time at states will still count toward a possible individual placement, as well as all members of the Foxes boys team.
"It's been a great four years with Jack," says the head coach. "He's just a great young man who has taken on a leadership role over the past two years, especially this year. Jack's success comes from experience, dedication, and buying into the training program. Even though he has some lofty individual goals, Jack really focuses on the team aspect of cross country. This has been one of the big reasons we've been able to achieve what we have this year. When your top runner is also team-oriented, that elevates everyone."
Laura Ready to Face Hershey Course Again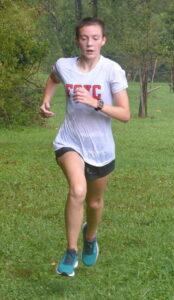 Laura started off the season on a high note after having a great freshman showing. At the 2021 Gateway Invitational, she continued a tradition that marked the fifth consecutive year that a Foxes female won that event. Laura also medaled at the Red, White & Blue Classic and the TSTCA meet, and was voted as the girls' most valuable runner this season.
Laura has run the Hershey course twice before – at states last year and at the Foundation meet earlier this season. Her assessment of the course is that it's a rough one.
"I would say the most difficult part of the course is the fact that it's really hilly," says the sophomore. "There are two pretty major hills in mile one and another hill just a while before the finish that can be rough. In my experience, if the weather is fairly cool, it feels a whole lot easier, so I'm hoping for some good fall weather this year. I expect that getting out at the beginning of the race will be tough, too, since states is obviously super competitive, but I have faith that all of our runners can still do well."
Along with those experiences, Laura says she's gotten better at managing her nerves before big races, something that hampered her at times as a rookie.
"I've realized that by the point I'm on the start line, I've already done everything I can to prepare for a race, and the only thing left to do is go out and give it my all," she explains. "It can still be stressful, but I've improved at harnessing all that nervous energy for good instead of letting it eat me up."
Coach Moul adds, "Laura is very coachable. She does everything she's supposed to do, from the big (training paces) to the small (warmup/cooldown, stretching). This helps her with confidence as well as the physical aspects of running. She didn't get out to a great start at the WPIAL race, but she hung in there and had a great second half of the race to secure a spot at states."
Clara Makes Splendid Return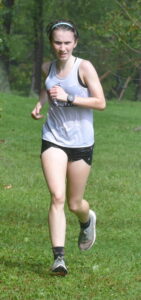 Qualifying for states this year was very special for Clara, and her first reaction was skepticism. Then, she saw the results online (it takes a while to post the results of more than 200 runners) but didn't have anyone around her to confirm that they were accurate.
"Coming off of last year's miss for qualifying, I didn't want to get my hopes up," she says. "But once I learned they were correct, it felt like I had finally gotten redemption for last year, and I was ecstatic!"
Last year's disappointment of just missing the cutoff was a fluke. Normally, she would have made the trip to Hershey along with Laura, but, due to COVID, every Pennsylvania high school team and athletes' ability to move on was greatly limited.
"Qualifying for states this year was so special," says Clara. "I went into the WPIAL race wanting to get top 25 and make the qualifying cut, but in all honesty, I did not think I could do it. Based on the type of season I had – not racing at the level I wished to be at, placing much lower than last season – made me think it was very unlikely I would qualify. I did not want another disappointing end to my season. So, while I was racing, I really used last year as my primary motivation for pushing through the pain and thoughts of giving up. The result was finally achieving what I had wanted to achieve so badly last year.
"I found out this season that I didn't have an injury per se, but rather a mechanical issue with my hormones that is predicted to take a year or so for me to outgrow. So, I had to really focus on tapping into how my body felt and maintaining a balance with training, so I wouldn't overdo it. Coach Moul worked with me by making a training plan for both biking and running, but, ultimately, I had to be the one to decide what days I felt good enough to run. I think my unique training of alternating biking and running helped me to maintain that balance, and also a good fitness base."
Coach Moul has been impressed with Clara's grit and talent since she was a freshman, but her performance and tenacity at WPIALs really astonished him. "What she was able to do at the WPIAL meet was remarkable. She's had a difficult season, but she's so disciplined with her work habits that she was able to maintain fitness, despite not running as much as her peers. To be able to fight for a top spot at such a competitive meet was another example of her toughness. I'm really proud of her."