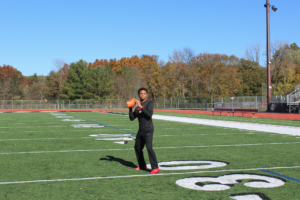 All week long, the No. 10-ranked Foxes were talking about the first round of the WPIAL Class 5A playoffs and how badly they wanted to win against No. 7-ranked Upper St. Clair. Some of that conversation revolved around supporting quarterback Khi'lee Patterson, who took over after senior starter Collin Dietz was injured during the Pine-Richland game the week before. It was Khi'lee's first time playing quarterback other than once last year and an occasional stint at wildcat when the situation called for it. But this is a player who has led the team in yards as a wide receiver and is a fierce defender whose strength and aggressiveness belie his size. Regardless, the players were confident Khi'lee could get the job done.
"We all were very focused and on the same page," says Khi'lee, who is also a senior. "We knew we were the underdogs going in, but we like it that way, especially when we are playing away on someone else's field. We just figured that someone has to win, so why not us?"
With that mindset, the Foxes upset the Panthers on their home field, 13-10. The victory marks the first time since 1997 that the Fox Chapel Area football program has won a playoff game.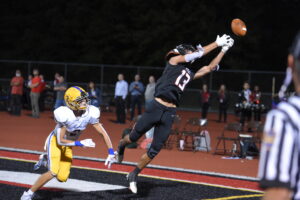 "The offensive line was outstanding, and we probably wouldn't have won the game without how well they played," says Khi'lee, a remarkedly quick, creative runner himself, who threw a 25-yard pass to senior Colin Kwiatkowski for the game's first touchdown, and then took one in himself from the 1-yard line for team's final score in the third quarter.
"We're very happy with our accomplishment," says head coach Tom Loughran. "It's something that's very nice considering after the longevity of the last playoff win. The fact that we lost our starting quarterback to an injury, and Khi only having a week's worth of preparation, I think we responded well. Khi has played wildcat for us at times, but we were able to expand the number of plays for him, and he did a very good job. All season, we've played games with high-level teams and come close, but this got us over the hump."
Defense Stout
At 6 feet, 205 pounds, Zidane Thomas was a gamechanger on offense and defense. His ability to plow through a herd of defenders resulted in 97 yards on the ground, and, on defense, he had a team-high 10 solo tackles. The senior leads the team this season in both categories, with 96.5 total tackles – 90 of them solos – and 947 yards rushing.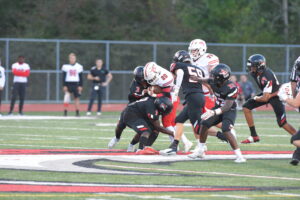 Defensive coach John Moritz says, "They were aggressive, took good pursuit angles when tackling, and, in the secondary, the safeties provided excellent run support. Our corners, safeties, and the linebackers picked up their receivers in passing situations and didn't provide Upper St. Clair with many options for passing and running. They also made big plays with interceptions and batting away balls.
"Even when USC tried to throw in some new wrinkles, we were able to handle them. Typically, USC would not send their running back into in the deep middle of the field for a pass route; they would typically block. They were hoping that we would not recognize them and have an uncovered route, but every time they tried this, our linebackers picked up the running back."
Jake DeMotte, a senior who has been described by one of the Foxes' coaches as having some of the best hands in the WPIAL, says he believes it was one of their best games of the season, especially after having to change up personnel due to key players being injured. He adds, "I think the effort started with a solid week of practices. One of our strengths that night was stopping their running game."
Coach Loughran adds, "The defense came through in big situations, and toward the end of the game, we stopped them twice on fourth downs."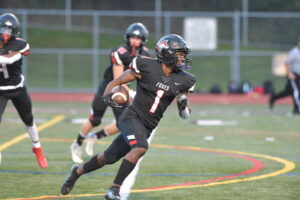 In addition to Khi'lee (QB/DB), Zidane (RB/LB), and Jake (WR/DB), other seniors participating in the game were Ryan Browell (OL/DL); Nick Korbe (OL/DL); Caleb Kulikowski (OL/DL); Anthony Miles (TE/LB); Maurice Sampson-Schulter (RB/LB), and Oliver Cooper Smith (K/P). Juniors included Sean Feczko (OL/DL), Will Fera (WR/DB), Christian Gaston (WR/DB), Ramadani Mada (OL/LB), Roman Mason (RB/LB), and Jack Visco (TE/LB). Sophomore Troy Susnak (TE/LB) and freshmen D'angelo Hamilton and Tyrese Samuels (WR/DB) also contributed to the winning effort.
The next playoff game will be at 7 p.m. Friday versus Penn-Trafford at Warrior Stadium.